Pieris Pharmaceuticals: The Blockbuster In Antibody Mimetics
Summary
Pieris is a very promising, early-stage antibody mimetic biotech company.
We discuss reasons and timing for long-term holding of PIRS.
We discuss their current lead candidates, and how they aren't the major asset of Pieris.
We believe the company to be a potential buyout target.
We give a 1-year price target $2.50-$3.40, depending on company direction.
Welcome to Altum Research's prized possession: Pieris Pharmaceuticals (NASDAQ:PIRS).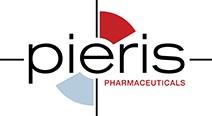 Dear reader: We have 7 lengthy sections in which we hope to give you a solid and thorough understanding of Pieris Pharmaceuticals, a company we believe to be largely ignored by the market due to its early clinical stage. We strongly encourage you to visit all sources and materials linked, and to sink a few hours into the field, in order to both appreciate and understand the company and our thesis.
What is Pieris
Who is Pieris
Science
Competition
Valuation
Summary
Let us get started
What is Pieris Pharmaceuticals?
Pieris was originally a German-based company arising from research done on some novel proteins. They formed in 2001, and have branched into multiple disease indications: oncology, anemia, asthma, ophthalmology, and infectious disease.
Stemming from Technical University of Munich (TUM) through Dr. Arne Skerra's work, Pieris was born. They are currently transitioning into a move to be headquartered in the U.S. from Germany. We'll go into this later, but we believe this is to avoid competition in Europe.
With a market cap of just over $65 million USD, they qualify as a small-cap pharmaceutical. They currently have not progressed into Phase III trials, giving them a relatively early and risky status. However, we are strongly bullish on the company, and intend to hold our investment for years to come (as long as our thesis holds true).
Pieris IPO'ed last year, and the price has fluctuated relatively widely since then. Since the January fall of biotech, it has recovered from its low of ~1.5x to sitting approximately in the 1.50-1.90 range: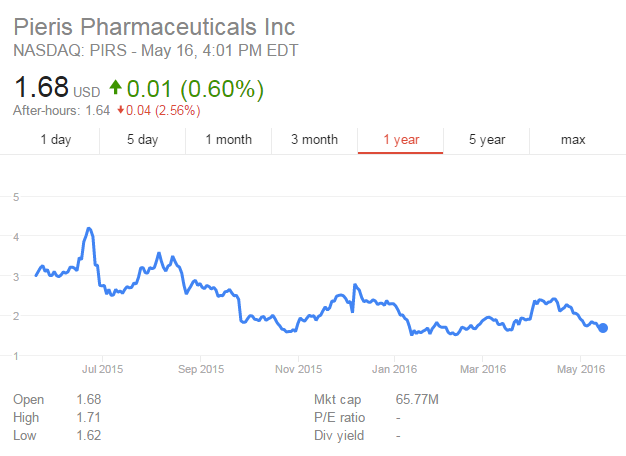 Who Is Pieris?
Pirs is currently a small company, with an estimated 32 employees.
Here, we'll discuss their management:

Their CEO, Stephen Yoder, can be considered young for his position. His total compensation is approximately $2 million. However, his base salary is less than $275,000 as of 2014, indicating the majority of this compensation is likely through stock options and equity. His previous position was with MorphoSys AG, and was related to IP, legal, and general counsel.
Since Stephen Yoder's law practice is positioned in the U.S., his joining in2010 indicates that PIRS likely anticipated moving to the U.S. at this time.
Yoder frequently says:
"Nobody beats Pieris to the patent office for Anticalins, that's because nobody else is allowed to work with them – I like to say that."
Flawless logic.
Although we like Yoder in his conference calls, we cannot find much on him before he joined PIRS.
This transcript talks about his approaches in MorphoSys (OTCPK:MPSYY) with securing consistent financial support by IP-licensing coupled with technology licensing.
"We really pride ourselves on our ability to work together with big pharma," he says. By strategically partnering with other, mostly bigger companies, MorphoSys has been able to enjoy impressive returns on its intellectual property. "We're not a typical German company, in that we bring to the table a definite US-focused approach," Yoder says, "I think this adds more value."

"Once there is a know-how transfer component there is more flexibility in how you can license a technology, such as in structuring royalty terms and certain restrictions on use," Yoder explains. MorphoSys has certainly found that licensing its patents in conjunction with technology transfers is a good way to do business. "So far, we feel we can generate more value from our IP this way than by licensing our patents independently," Yoder says.
We believe Yoder has, and will continue, to take this paradigm with Pieris into the future: securing smaller (but significant) capital by partnership licensing, while still maintaining a highly independent portion of its clinical development. This allows for a smaller yet relatively constant cash inflow, while also providing a significant upside for proof of concept through collaborations & partnerships.

Their Chief Development Officer (CDO) is Louis Matis. He has experience as CSO for Alexion Pharmaceuticals (NASDAQ:ALXN), CEO for CGI pharmaceuticals, and worked with Immune Tolerance Network.
His work with Alexion Pharmaceuticals involved discovering Soliris®, which gained FDA approval in 2007. The stock of ALXN was priced around $18.00 at the time, and currently hovers in the $150 range.
Additionally, CGI Pharmaceuticals was acquired from Gilead (NASDAQ:GILD) in 2010. Louis Matis' previous companies have an impressive track record.

The CFO, Darlene Deptula-Hicks, has an extensive track record as working CFO of Microline Surgical, Inc., iCAD, Inc., ONI Medical Systems, Inc., and Implant Sciences Corporation. Fairly impressive.

Head of Development, Shane Owill, has worked on antibody conjugates, fusions, and general technology for the majority of his professional career. He's written a bit about why antibodies are one of the most important biotechnology advances. Interestingly, of course, PIRS is planning on disrupting antibodies in favor of antibody mimetics.

Finally, we'll highlight the R&D VP, Ulrich Moebius. Ulrich also comes from MorphoSys, but previously had experience in advancing drug candidates to full approval. He also has the coolest name on the planet.
Together we see no strong warning signs within management, and are impressed by the group. Our only immediate concern is the, albeit strong, seemingly slim history of Mr. Yoder with MorphoSys.
The Science Of Pieris
The platform of PIRS is relatively straightforward. However, due to its flexibility and the range of indications Pieris plans to target, there is a lot to cover. We're going to break it down first by the general platform (Anticalins), and then go into the two lead anticalins in clinical development, PRS-060 and PRS-080.
Before starting, we'd like to indicate that our valuation of PIRS currently is most heavily weighted by their platform: The production and use of Anticalins for clinical relevance.
We put an evaluation of their platform at the end of the section.
Anticalin Technology Platform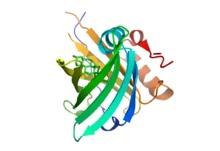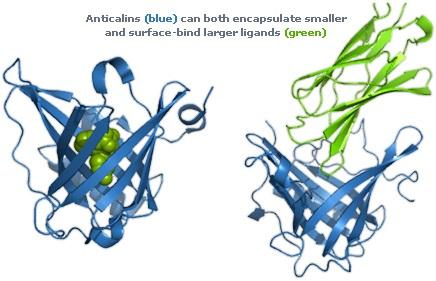 Anticalins are small proteins derived from the human protein group calledLipocalins. In their natural human context, lipocalins can circulate throughout the body, and are important binders and transporters of hydrophobic molecules (such as steroids and lipids) hence the name lipo-calin.
How Pieris plans to commercialize these proteins is by making them mimic antibody function, that is, Pieris wants to design lipocalins in such a way that they perform all of a specific antibody's function while:
Reducing the cost of production.
Allowing for greater target-indication space, while simultaneously maintaining a humble IP space of one protein scaffold (the lipocalin).
Maintaining duo- and multi-specificity (the ability to bind more than one target).
Improving stability and increasing possible delivery methods.
Avoid immunogenicity problems that can come inherently from antibodies (5-10% of patients experience immune responses to antibodies in general).
[If you're unfamiliar with what antibodies are, they are large, multi-domain proteins that generally exhibit immuno-responses. Antibodies are one of the crucial components for developing natural disease resistance such as fighting off the flu.]
To explain how prevalent and important they are in clinical use, Wikipedia has a list of all therapeutic antibodies used today.
Market perspective: 5 of the top 10 pharmaceuticals by international sales are antibodies.
How Pieris creates the anticalins is by a process called "phage display" (explanatory video here).
Essentially, tens or hundreds of billions of Anticalins are produced, with all types of varying sequences. These are then incubated with a protein or peptide, which the company wants to bind against. Then, methods are used to find which Anticalin (of hundreds of billions of different combinations) binds to the target the best.
This makes it incredibly likely that PIRS can identify an Anticalin for nearly any protein/peptide target.
Due to the variety of lipocalins that Pieris can work with, the fundamental enormous nature of phage display results, and the extent of their IP on lipocalins/Anticalins, we find it likely that PIRS is able to target the majority of therapeutic targets that are currently being targeted by antibodies.
Is There Evidence For Success (Clinical Acceptance?)
With other success comes competition. In the following table we will highlight current and past companies who deal with antibody mimetics. We're including all the companies we have found that are working with small proteins that are intended to replace antibodies.
Antibody Mimetic Companies
| | | | |
| --- | --- | --- | --- |
| Company Name | Ticker | Status | Buyout Price ($M) |
| Adnexus | – | Buy Out | 500 |
| Affibody | – | Private | – |
| Scil Proteins | – | Private | – |
| Avacta | LON: AVCT | Public | – |
| Affilogic | – | Private | – |
| Complix | – | Private | – |
| Avidia | – | Buy Out | 380 |
| Molecular Partners | SWX: MOLN | Public | – |
| Covagen | – | Buy Out | 218 |
| Ablynx | EBR: ABLX | Public | – |
| Pieris | PIRS | Public | – |
| Noxxon Pharma | – | Private | – |
To remain objective and provide the reader with a possible bearish thesis three anti-body mimetics have been terminated in clinical trials that we know of:
The Anti-VEGFR-2 produced by Adnexus. Although it is possible other BMS pipeline candidates are based off Monobody (Adnexus) technology.
Covagen candidate was terminated.
Molecular Partner's (SWX: MOLN) ocular drug was terminated for toxicity in a Phase I trial.
However, Ablynx, the farthest along and most developed of all the anti-body mimetic companies (Currently in Phase III) has multiple partnerships, and has demonstrated safety and efficacy. (We like Ablynx). They have a market cap surpassing $750 million, and have >$5.5 Billion in potential development milestones.
This indicates a strong, optimistic view on antibody-mimetic technology as a whole from outside partnership companies. Ablynx currently has partnerships with AbbVie (NYSE:ABBV), Boehringer Ingelheim, Eddingpharm, Genzyme, Merck & Co. (NYSE:MRK), Merck KGaA (OTCPK:MKGAY), Novartis (NYSE:NVS), Novo Nordisk (NYSE:NVO), and Taisho Pharm Co.
We believe comparing PIRS to Ablynx is fair, as the ratio of [milestones possible]/[market cap] is 7.5 and 7.2, respectively.
In other words, the amount of investments from outsider partnerships and collaborations are about equal, with respect to the market cap of each.
So how has Ablynx's stock chart performed? The 5-Year chart begins in mid 8.48, swings down to a low of 2.25, and has rebounded back to 13.98, making it an exceptional investment if you purchased in the lows of 2012.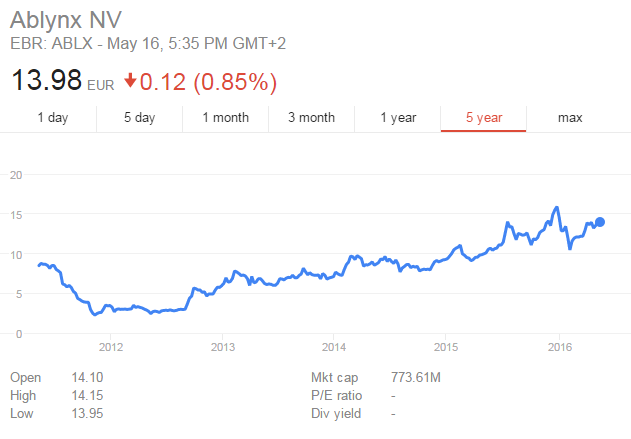 We post this chart, as we expect PIRS to closely mimic this going forward into 2020.
We'll get into evaluating the Anticalin platform near the end.
PRS-080
PRS-080 is their Anemia drug. The target market is not general anemia, since this drug requires IV. Instead, PIRS has decided to target late-stage chronic kidney disease (CKD) patients who are on dialysis and have anemia. We'll get into market projection in a bit. First let's figure out how this works.
PRS-080 targets hepcidin, and it does so very well. It has KD values in the femtomolar range, which is some of the strongest binding seen in biologic drugs.
To understand why PIRS is targeting Hepcidin, we have to understand how anemia works.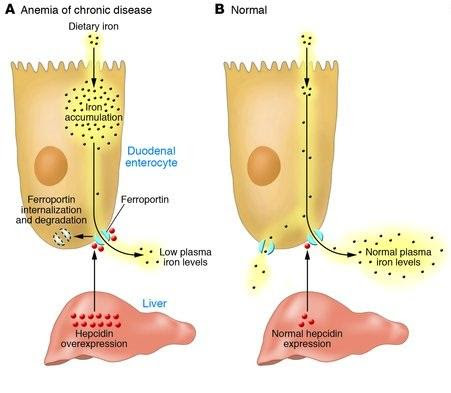 This image (sourced from here) outlines how iron release into plasma is contingent on two major proteins: Ferroportin and Hepcidin. Ferroportin can be thought of as the gate, which is normally open, while hepcidin acts like a "plug" inhibiting the transport of iron into the plasma. So, high levels of hepcidin cause ferroportin to stop working, thus inhibiting iron to be released into the plasma.
PRS-080 works by binding and inhibiting hepcidin, allowing ferroportin to export iron at relatively greater levels. The immediate question we should then ask is do people with CKD have high levels of hepcidin?
Yes, they do. You can read a review of it here and we take the following snippet from here:
Chronic kidney disease (CKD) is associated with increased serum hepcidin levels, and the increased levels may contribute to the development and severity of anemia and to resistance to erythropoiesis-stimulating agents (ESAs).
The above quote hits on something important, which is the current standard of care for anemia in patients with CKD: erythropoiesis-stimulating agents (ESAs). These are hormone-like drugs that cause an up-regulation of blood cell genesis. This is good for anemia patients, because more blood cells = more iron transported throughout the body.
However, ESAs have negative side effects. Amgen's Epogen, which is an ESA, has a black box warning. There are multiple adverse effects, though they tend to be rare (thrombotic events are included).
Additionally, since ESAs are hormonal, resistance to the drug can be common and cause diminishing results over time. PRS-080 avoids this, as it is a protein inhibitor, and so far, has not seen adverse effects (Phase I).
The results from the Phase I trial were very promising:
Within 1 hour, decreased hepcidin serum levels.
Dose-dependent effect on iron serum levels.
Duration of iron level control was dose-dependent.
The study was done in healthy volunteers indicating that people with likely normal levels of hepcidin still saw a significant increase in iron. This bodes well for people who have anemia in late stage CKD, who will have elevated, and therapeutically-targetable levels of hepcidin.
Pieris is now enrolling patients for the Phase Ib/IIa trial.
Unfortunately, Pieris' competitor, Noxxon Pharma (private), is ahead of them in this field. They have a Spielgmer (an antibody mimetic) that has shown efficacy in a Phase Ia trial. They initiated (and indicated completion of) a Phase Ib/IIa trial. However, full results have not been reported, even though the study has been closed for some time.
However, when speaking to a Pieris representative, they believed that some secondary endpoints of Noxxon's clinical trial were not satisfactory, and this was the reason that full results were never reported, and that the candidate has not progressed at all.
Our market projection for PRS-080 is actually greater than the company's own projection, as they only use stage 5 CKD, while we believe their technology could additionally work for stage 4.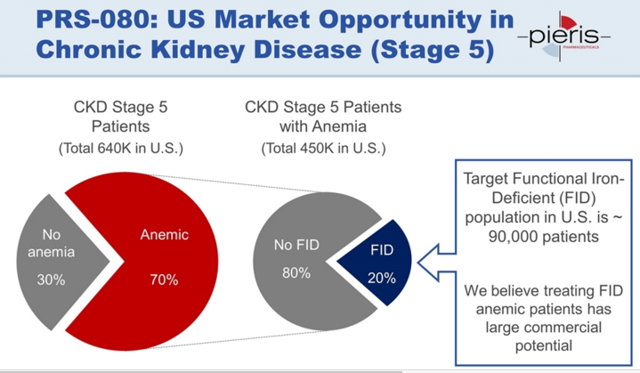 The treatable population we model is 220,000 in 2016, however we do not account for dialysis, we account for the total population that has anemia, and is stage 4-5 with CKD and are being treated.
We also use the latest population projections from the census, combined with a steady decline and leveling off of the population with late stage CKD and FID. This is projected to occur, and we believe it to be the case that kidney disease will become lower in the coming years.
Our total valuation of the PRS-080 technology alone brings a Risk Adjusted NPV of $48,615,400.60, and a respective PPS contribution of $1.22. (We get into the total PIRS PT at the end of the article).
PRS-060
Their second proprietary candidate, PRS-060 is a novel inhalant-inhibitor of the IL-4 receptor known as IL-4Ra to treat asthma and is in pre-clinical stages. This is a relatively new target in the approach to treating inflammation associated with asthma but there have been studies done before.
Regeneron (NASDAQ:REGN) and Sanofi (NYSE:SNY) have partnered together to create a similar approach with an antibody called Dupilumab. Currently, they are in Phase III trials with results likely this year.
There are two fundamental differences between PRS-060 and Dupilumab:
Dupilumab targets IL-4 and IL-13, both of which are ligands to IL-4Ra. PIRS-060 directly targets IL-4Ra, shutting down the pathway in a more efficient manner.
PRS-060 is potentially a candidate for inhalant-delivery method, while dupilumab is a systemic drug, injected and spreads throughout the entire body.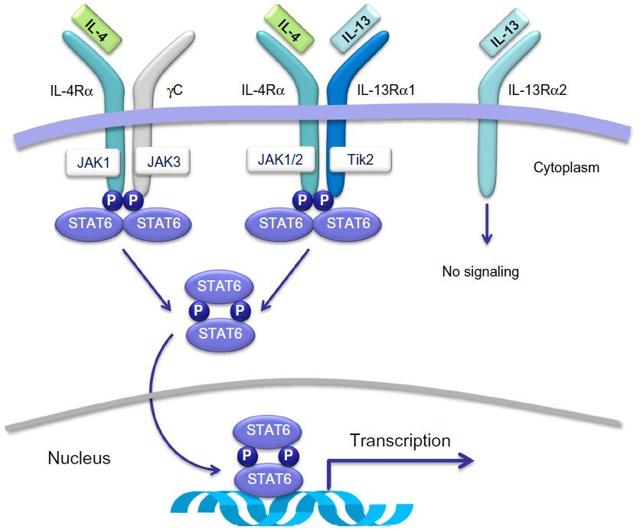 Image from Regeneron's website
The first point is somewhat negligible at this time, since the only two interactors with IL-4Ra that are known are IL-4 and IL-13, so theoretically, all else being equal, the drugs have the same potential. However, if it becomes known that IL-4Ra has other interacting proteins that cause inflammation pathway to become activated, PRS-060 will then outperform Dupilumab, as it will shut down the pathway at the bottleneck.
The second point is more important, and even more supportive of PRS-060 over dupilumab. Although dupilumab so far has a very good safety profile, some concerns have been brought up about systemic immune-regulatory antibodies such as Omalizumab, developed by Roche (OTCQX:RHHBY).
Omalizumab has been given a black box warning for upper-respiratory anaphylaxis (serious allergic reaction), but mostly for people who have taken the drug for more than one year. One reason of the major reasons for developing Anticalins is their purported reduction or absence of immunogenic/allergic responses in humans.
Thus, we make the unfortunate speculation at this point that dupilumab and Genentech's Lebrikizumab may eventually contain these black box warnings as well, or at the very least, show allergic reactions after long term use. To briefly touch on lebrikizumab, it only targets IL-13, which allows any IL-4 activated expression to turn on the inflammation response through IL-4Ra, again, a substantial weakness in comparison to PRS-060 and Dupilumab.
We do expect dupilumab and/or lebrikizumab to shake up the asthma market, and perform well for the time being. However, if immunogenic and allergic responses begin to develop in the patient population, we'll expect PRS-060 to shine, due to its targeted response to the lungs. Additionally, since PRS-060 is designed to be an inhalant, this makes delivery more favorable over injection.
An interesting point to make about dupilumab studies, is that originally, all companies expected that eosin-levels to be bioindicators as to whether their drugs would work. Eosin levels are usually attributed to over-active allergic responses and inflammation, thus the idea was that if companies could screen for patients with high levels of eosin, their drug-treatment, which targets this inflammation response would work better. Interestingly enough, Regeneron and Sanofi both confirmed that both cohorts – high and low eosin levels –responded well to their drug, indicating that the targeted strategy on IL-13/IL-4/IL-4Ra may include a significant number of asthma sufferers.
In summary of PRS-060, we believe that dupilumab and lebrikizumab have trail-blazed the way for efficacy within this pathway. However, their systemic(IV injection) delivery and possible immunogenic response give a superiority and large market potential for PRS-060 in the future.
Our market projection for PRS-060 gives a Risk Adjusted NPV of $15,735,237.85 and a PPS contribution of just $0.39. (Again, we discuss a PT of PIRS at the end).
PRS-343
We will only briefly touch on 343 and the other candidates in PIRS' pipeline – although they are interesting, they are too far out for serious evaluation.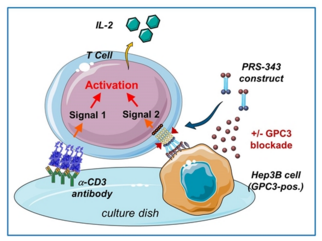 Image taken from Pieris website
PRS-343 is a bi-specific anticalin, meaning it can bind two targets simultaneously. The idea behind the bi-specific 343 is using the body's innate immune-response to kill and suppress tumor growth. The two targets of PRS-343 and HER2 and CD-137.
HER2 is a protein that is normally expressed at low levels, but in certain tumor cells, it becomes very highly expressed. We can think of HER2 as a biomarker for a cancer cell.
CD-137 is a receptor on immune-response T-cells, that when activated, turns on the tumor-killing potential of T-cells. Normally this receptor is displayed on unhealthy cells, and T-cells will normally eliminate these from the body via this pathway.
Now, PRS-343 combines the cell-killing potential of activating CD-137, with the tumor-targeting associated with HER2. Thus, in essence, PRS-343 recruits the body's own immune-response T-Cells to come in and kill HER2-expressing tumor cells.
The field of immuno-oncology is getting to saturated levels, and with the pre-clinical stage of 343, we're going to leave this story here until further clinical developments materialize.
PRS-050 (Discontinued)
One of the farthest along candidates, PRS-050 was discontinued due to it being equal in efficacy to the standard of care. PRS-050 was an oncology drug, targeting VEGF, a fairly common treatment target in cancer therapies. Disappointing to the value of Pieris at the time, it still proved that Anticalins could work in humans. PRS-050 just didn't prove any superiority for this indication. It was a smart move to discontinue the drug where they did, as the option of going through further clinical stages was still open.
Interestingly, no anti-drug antibodies were observed with PRS-050, even though it showed activity on the target. This proved beneficial at the fundamental level, validating that there is likely no immunogenic response to Anticalins, or very low.
For collaborative efforts & partnered programs, we eagerly await more data from Pieris.
Enumeral Deal
A recent event by Pieris' in the field is an attempt to strengthen their immuno-oncology/oncology pipeline by acquiring the rights to use technologies from Enumeral (OTCQB:ENUM). We found the move to be strange, given the cash position and early development stages of Pieris. At the present moment, we're neutral on this.
The deal comes from Enumeral's promising platform for developing patient customized antibodies for oncology indications. The technology of Enumeral is basically growing small cells, giving certain treatments, and then evaluating small-molecule and antibody production of each cell at a very high-throughput level.
In essence, the company can screen quickly and succinctly near-single or single-cells for antibody production against certain targets. Their most relevant work is for antibodies against PD-1, which follow the path of the already approved drugs OPDIVO® and KEYTRUDA®.
However, these drugs are not always effective in all patients, and in many cases, resistance to the mechanism of action is developed during treatment, contributing to a serious problem. Enumeral tries to avoid this problem by developing a much larger library of customized PD-1 antibodies. Additionally, Enumeral can take biopsies from patients, screen them through their platform, and look for the specific antibodies, which are most likely to benefit them.
The deal follows that Pieris can look through the Enumeral PD-1 antibody library to find specific antibodies that appropriately work for Pieris' intended target. It also excludes Enumeral from allowing other third-parties to use Enumeral's technology in the same field as Pieris. Additionally, there is a time-stamp on the deal of 1 year; Pieris has 1 year to identify an additional candidate from Enumeral to follow up with.
The financials of the deal are relatively in favor of Pieris, but considering Pieris' cash on hand, it still is a potentially large acquisition:
Pieris has agreed to make a 1 million upfront payment, and to pay development milestones of up to an aggregate of $37.8 million for all products and indications, and sales milestones of up to an aggregate of $67.5 million for all products and indications. Enumeral will also be paid royalties within a range in the low to lower-middle single digits as a percentage of net sales.
The acquisition may reflect internal findings of Pieris that PD-1 is in some way interfering with other oncology candidates, and this is a synergistic pathway for preclinical PRS drug members. We're not sure, and unfortunately, we don't believe more news will come from this for at least 8-12 months. However, it did turn us on to Enumeral, and we love their platform. We suggest you check them out. They are a penny stock.
Collaborations
The collaborations are as follows
Roche
Allergan (NYSE:AGN)
Zydus
Daiichi
Sanofi
Stelis
Roche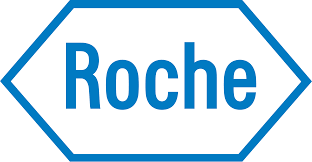 The most notable and most recent collaboration comes from Roche. It consists of a $6.4 million upfront payment, followed by total possible milestone payments of $409 million, excluding royalties for the development of an undisclosed immuno-oncology target.
Upon speaking with Darlene, and some comments made in the most recent ER conference call, it seems there is significant undisclosed interest in collaborating with Pieris in the field of oncology or I/O. We'd like to believe this to be true.
Looking at the Merck/Ablynx partnership in I/O, there are "up to 17 programs" indicating a highly sought-after field. Considering that Ablynx and Pieris are ideologically similar, we may expect to see similar numbers appear from the Roche/Pieris collaboration.
Allergan
The Allergan partnership is not currently listed on their website as active, but Darlene assured us it hasn't ended. Allergan currently is allocating development elsewhere, but the deal is still on the table.

The Daiichi, Zydus, Sanofi, and Stelis deals are all "hands-off" from Pieris. That is, Pieris has outsourced the research to these companies and they are now in complete control of development of the respective anticalins.
Lastly, these collaborations equate to over $700 million in milestones(excluding royalties) due to Pieris if all are met. We believe the collaboration deals are more likely to produce results within the 2016 year than any of the wholly-owned projects.
Since the Daiichi, Zydus, Sanofi and Stelis deals are all active, and considering the length of time since their inception, we can expect to see these begin to produce results (milestones) by the end of this year.
Daiichi is getting close to Phase II, while Sanofi and Zydus are close to clinical trial initiation.
Closing Remarks and Summary
Pieris may be changing focus
We had a chance to speak with Darlene last week, and after listening to the recent 1Q earnings release conference call, we're somewhat convinced that both the asthma and anemia drugs are may follow the fate of PRS-050: discontinuation after proof-of-concept data. That is, unless a collaboration happens to bring these to market, or the data is incredibly compelling to bring it to market.
PRS-060: We think that although the potential market for asthma is large, and if Pieris were to capture a decent portion of the market, it would be very profitable. However we believe that there is less in favor of this occurring on Pieris' dime than there is of high costs-of-patient-acquisition, high costs of clinical trials, and high costs of marketing severely dampening potential net profit.
One major issue with this indication unfortunately comes from a now-invisible company Aerovance. Aerovance had a small molecule that inhibited IL-4 and IL-13, which is similar (but not identical) to how PRS-060 works.
The drug did work in a subset population (those who had eosinophilic asthma) but did not show significant difference on the general population with asthma. This indicates that if Pieris were to target eosinophilic asthma, they may have better results moving forward, we'll have to see, but we believe that the high cost-of-entry into asthma may prohibit them from moving past Phase II (after they ideally show proof of concept data).
PRS-080: We have higher hopes for PRS-080 than I believe Pieris does! We believe again, that without a (1) collaboration or (2) absolutely stellar (life-saving) data, 080 will go out like 050. However, if our calculations are correct in the market reach of Pieris, we significantly have increased their potential revenue and net profit from the drug compared to their own projections.
Additionally, we believe that 080 is likely to have great data in anemia, with the potential of substantially treating this indication. But ultimately, unless lives aren't being saved, and no other parties show significant interest, this will be yet another proof of concept drug.
PRS-343 and the oncology targets:
This is where Pieris is heading. We think that the growing knowledge and technology surrounding immuno-oncology is driving Stephen, Louis and the gang to go ramming-speed after immuno-oncology targets, and frankly, we don't think it's a bad idea. Short-term valuation of the company may suffer, and we may definitely see financial turmoil given the length of time to market adoption for these drugs and their cost to develop, but for longer term horizons, this is definitely a step in a strong direction.
Additionally, as Michael King intelligently brought up in the conference call, it looks like there is a strong interest from academic and medical facilities to adopt Pieris' technology into trials. i.e., time from study open to enrollment met should be relatively quick, substantially fast-tracking this pipeline (we hope, and good question Michael).
PS, we think this image is awesome: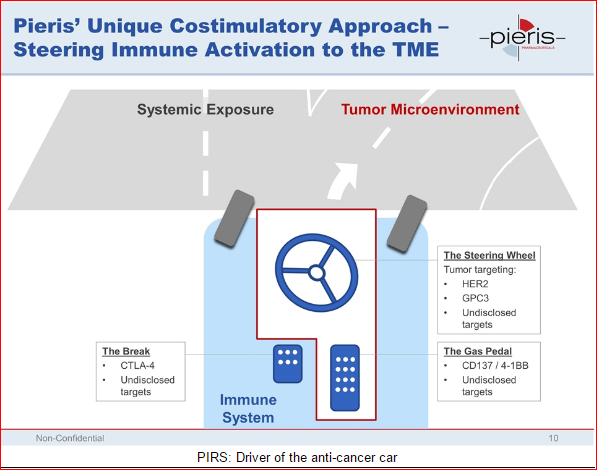 Valuation
After researching this company, which was one of the first biotech companies to pique our interest, we're neutral on the one-year time frame excluding an acquisition of Pieris.
However, on the 2-5 year time frame, we're extremely bullish and expect this company to follow that of Ablynx, or better yet Covagen, Avidia, or Adnexus. Which brings us to:
Buyout Scenario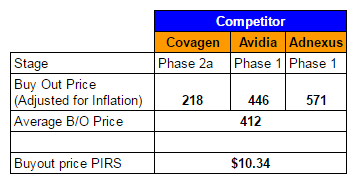 Considering other antibody mimetic companies who have been bought, the average payout price is $412 million, all of which were only in Phase IIa or Phase I.
We believe that if a buyout were to occur, it will likely happen within the next 6 months. We nominate Roche or Merck as possible candidates for this to occur. This would create a near 10-bagger.
Modeling: PRS-080
In our modeling of Pieris' 2 programs, we assigned a WACC of 40%. While high, this helps us remain grounded and true to conservative principles.
In modeling the Anemia program, we found that the program is more a validation-of-platform, as previously stated. However, any data, which would make the Pieris potential therapy, an SoC, could be a significant bonus for the company, and increase our then de-risked platform valuation.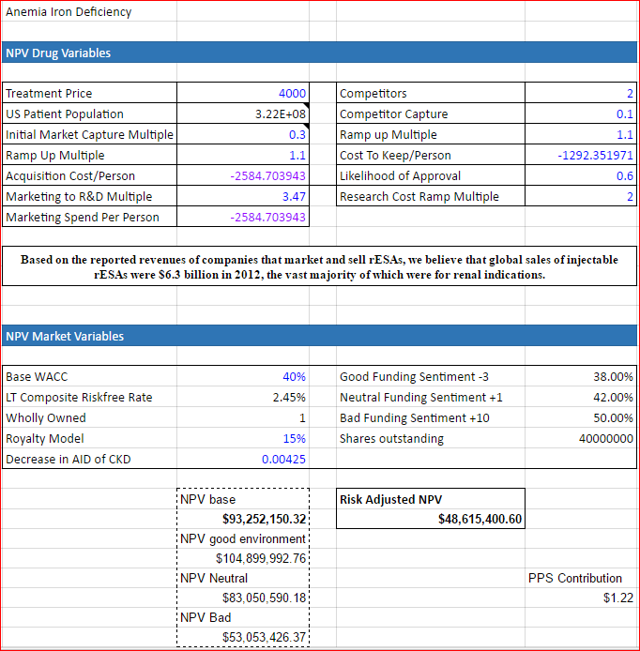 We used % of population seeking current treatment to drive our initial capture multiple and systemically broke down the addressable population in our NPV:

Modeling: PRS-060
The modeling of the Asthma program is less straightforward due to the competition, penetration, and current size of Pieris. All of our assumptions are driven by data from:
While the prospects we outlay for Pieris' Asthma program may not seem great at first, we believe that de-risking events, platform validation through PRS-080, and any hint of bad data from Regeneron and Sanofi's dupilumab, or Roche's program will change this to the benefit of Pieris and other parties.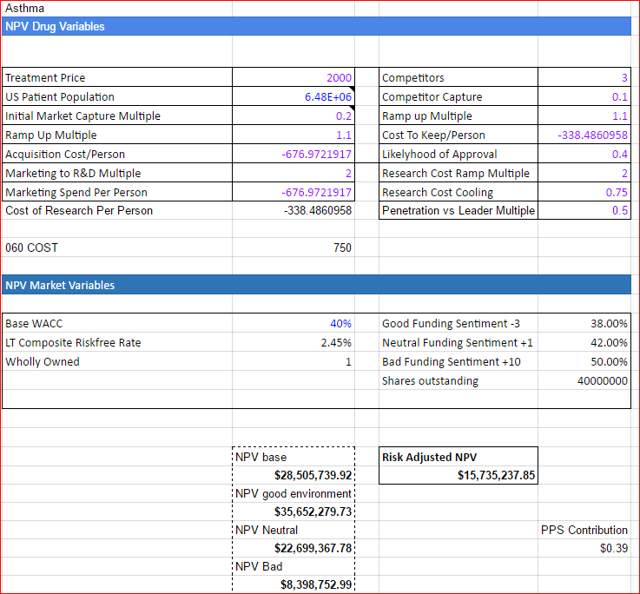 As shown in the NPV, an Asthma program, due to scope, will require large amount of capital at outset of sales and marketing: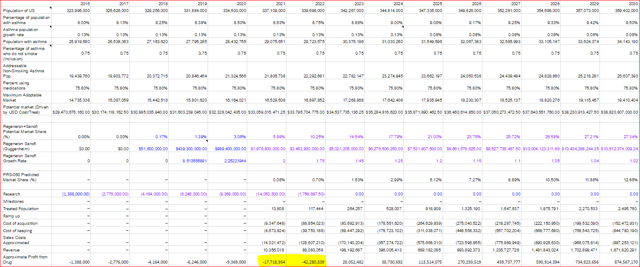 Our final valuation considers that Pieris will continue to move forward with PRS-060 and PRS-080 as validation of its platform, with a small chance to pursue the drug by themselves but more likely with a partner into commercialization on healthy data.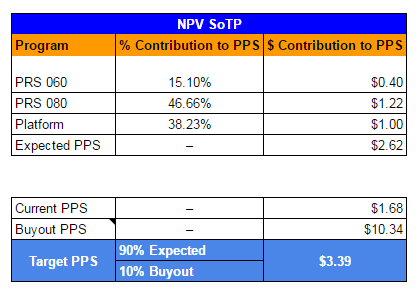 We value the platform itself of Pieris to be approximately $40 million, or about $1 per share. We believe this to be conservative on the grand scheme of the platform's capabilities (overtaking a portion of the antibody market) but reasonable due to the company's early clinical stage.
The expected PPS of $2.62 comes from the most basic modeling of the company:
Both PRS-080 and PRS-060 will progress through clinical trials as planned, with parameters outlined in the above mentioned WACC analysis.
The immuno-oncology candidates are not evaluated, as they are all pre-clinical.
No additional milestones are hit in 2016
However, if we consider the current PPS to be a fair representation of the entire platform and pipeline of Pieris, a 10% buyout chance at the indicated price range would put the PPS at $2.55.

Considering the sum of its parts and its early stage, we believe this price target to be appropriate for Pieris on the 6-9 month time line.
Cash Burn
Considering Pieris had $31 million in cash & equivalents as of March 31, 2016, and their cash burn was $14 million, they will make it easily through 2016 and into the Q1 of 2017 with no additional funding.
Additionally, due to the multiple collaborations and partnerships ongoing, we should expect to see at least some milestone payments come through totaling in the low-to-mid single-digit millions range by that time, thus possibly spilling funding into Q2 2017.
Final Summary
We like Pieris, a lot. Our only issue is time. They are very early stage and we see potential decreases in price due to macro events largely attributed to sector decline. Thus, we have two approaches for PIRS:
Consider the current price ($1.67) a high discount and long-term hold through all binaries (PRS-060/PRS-080) with a final time frame of 4-5 years.
This requires the acceptance that macro and sector-wide events could lower PIRS price significantly from here until the 4-5 year mark.
Wait for PRS-060/PRS-080 binaries to pass, near the beginning of 2017, and then purchase, based on all considerations above, long-term hold of 4-5 years.
This assumes there will be no buyout in the 2016 year.
This assumes that the indicated binaries will be negative.
This assumes that the biotech sector will not recover considerably by 2017.
We believe the market has the same problem as we do. The early stage of Pieris makes any significant upward movement that isn't from a buyout to be pushed well into 2017. Additionally, companies with market caps under $100 million largely get ignored by larger investment news.
[We'd like to indicate that Celator Pharmaceuticals (NASDAQ:CPXX) was below the $100 million market cap, and thus, it had little recognition in the biotech sector, even though it was nearing Phase III results. Currently, it sits at >600% increase from our initiation of our CPXX article.]
We're bullish on additional collaborations, we're bullish on buyout, and we believe that PIRS has been significantly oversold.
We will continue to hold our positions for the long-term horizon, and approach this stock with an "accumulate-buy" mindset, buying sector "dips."
Disclosure: I am/we are long PIRS.
I wrote this article myself, and it expresses my own opinions. I am not receiving compensation for it (other than from Seeking Alpha). I have no business relationship with any company whose stock is mentioned in this article.
Editor's Note: This article covers one or more stocks trading at less than $1 per share and/or with less than a $100 million market cap. Please be aware of the risks associated with these stocks.