Fate Therapeutics Is A Wise Speculation Even In A Tumultuous Smallcap Biotech Environment
Summary
Recent Biotech meltdown has resulted in many small cap bios trading below cash, above book.
ProTmune is being ignored, revenue potential underestimated and seen as "further-away".
ProTmune is easy to enroll for, a more economic choice over ProHema, multiple targets.
JUNO Partnership and future ProTmune revs set up Fate for discovery of its true gems: iPSC and off the shelf NK Cell portfolio.
Fate Therapeutics (NASDAQ:FATE) (hereon FATE), is a clinical-stage biotechnology company focused on the development of cellular programmed immunotherapeutics for the treatment of severe, life-threatening diseases. Fate achieves this through a proprietary platform employing pharmacological modulators to reprogram cellular fate and function, helping promote the body's own rapid and supraphysiological activation and inhibition of a cell's transcriptional program.
The Bottom line, and Investment Thesis
We believe Fate is disruptive in the field of pharmacological programming of cellular fate and function. We also recognize that this may only be achieved through significant (lower initial rNPV) early partnerships, licensing and collaboration agreements, which fund future research in off-the-shelf NK therapies and the proprietary and possibly revolutionary iPSC work. We derive our price target for FATE on a discounted cash flow basis with continuous derisking of a 20-24% discount rate via:
Longer-term GvHD, CMV prevention potential of ProTmune.
Achievement of JUNO Collaboration targets at either end of 2016 or mid-2017.
We believe that due to: 1. Fund-liquidation events, thin volume, which are both fueled by the recent tumultuous biotech downturn, Fate trades at an inefficient valuation. In anticipation of data due out later this month, and mid-2017, we believe FATE is a compelling investment with our implied risk adjusted price set at $6.70.
ProTmune for ProHema Reflects on Management's Excellence, and Sound Decision Making. Potential Market Discussed:
As of December 7, 2015, Fate made the wise decision to pursue ProTmune over ProHema. We believe that this will be looked at as a turning point and key decision in putting Fate on the road to more success:
ProTmune is a scientifically better therapeutic in contrast to ProHema, and
ProTmune has a significantly higher addressable market with multiple endpoints up for achievement.
ProTmune can play cooperatively across almost all other therapeutic areas for Fate, and potentially lead to future partnerships and collaborations in P2 and P3, and when marketed.
MD&A on ProTmune and Citation:
"We are pleased that the PUMA data continue to support our initial aim of improving neutrophil engraftment in cord blood HCT and, more importantly, our growing therapeutic focus on programming immune cells,"

"With the increasing utilization of mobilized peripheral blood HCT, we believe the development of ProTmune, which is specifically intended to prevent T cell-mediated complications including acute GvHD in mobilized peripheral blood HCT, offers a more compelling therapeutic and pharmacoeconomic value proposition compared to ProHema. Programming donor immune cells just prior to administration to a patient undergoing HCT is a paradigm-changing approach and has the potential to significantly improve patient outcomes, mitigate the use of toxic and immune-suppressive drugs following HCT, and reduce the overall cost of care."
– Scott Wolchko, President & CEO of Fate Therapeutics.
We will expand on this, and ProTmune, in significant detail.
T-Cell R&D Initiatives and Potential Juno Targets are Healthy and Compelling for Fate's Balance Sheet
Fate's financial position is healthy and should have stable, predictable cash burn, largely thanks to the recent Juno collaboration addressed further down in this report. Under the terms of this collaboration, Juno will pay Fate up to $500M for the first five modulated products, an average of $50M per product, with bonus milestones possible outside the first five. Worth noting is that Juno also foots the bill for this research. This will add significant predictability and potential cash to the company and expand the Fate balance sheet security.
Should there be any deterioration on Juno's end, Fate will still be supported through a registered shelf of $80M.
ProTmune for GvHD Is an Important Piece of Solving Current Issues with HCT Therapies
Immunotherapy is generally done by "Adoptive Cell Transfer" (ACT), which takes a patient's immune cells and tumor cells, alters the immune cells to make them more aggressive against the tumor cells, and then re-injects the altered immune cells into the patient. A major limitation in the effectiveness of this therapy is that as these ACT therapies become more common, they also become more powerful and frequently attack the host. This is commonly referred to as (GvHD). GvHD basically occurs because the re-injected altered cells attack the healthy host cells, and the entire immune system is compromised due to the re-introduced cells being "busy" fighting the host.80% of Hematopoietic cell transfer HCT patients experience severe infections, and ~30% of mortality from HCT is within the first year and attributed to infections. Currently, there are no FDA-approved products to prevent acute GvHD or CMV infection.
To combat GvHD, Fate Therapeutics has been approved to initiate a Phase I/II studies on a groundbreaking ACT process/drug called ProTmune that can attack cancerous tumors while lowering the chances of GvHD. In studies with mice, allogenicity, inflammatory responses, and even overall survivability increased with the ProTmune drug in comparison with those that only had the generic altered immune cells. If clinical trials with humans are successful for ProTmune, Fate would be in a position to provide a remarkable solution to the GvHD problem.
Note that the recent NHI study regarding GvHD and B-Cells, does not change this. This problem affects ACT therapy greatly, and a successful reduction in GvHD through ProTmune in human patients would put Fate in a rather remarkable position in the field, and on the cross hairs of countless companies, as a partnership candidate or collaborator. We will expand on this as well.
Long-term Focus Will be on iPSC and Programming Cellular FATE and Function, Funded by ProTmune Juno Milestones, and Royalties
We are investors in Fate Therapeutics not for the current collaborations, milestones, and upcoming products in clinical trials, but the entirety of their therapeutics' franchises, particularly the remarkable yet under-acknowledged iPSC assets and platforms. Of particular note is the patented culturing and feeder-free stem cell medium. This proprietary medium is only a small part of Fate's IP protected assets with multi-billion dollar revenue potentials.
In this report, we will speak on the space and significance of Fate's technology.
Competition:
NantKwest (NASDAQ:NK): We are long NantKwest. This brief snippet does not in any way represent the full depth and breadth of NantKwest.
As with FATE, this company is using the innate targeted cytotoxic potential of NK cells to respond to various types of cancer.
Table 1. NK cell lines
| | |
| --- | --- |
| Activated-NK Cells or (aNK) | Their "Off-the-shelf" product: NK cells that contain a broad range of activating receptors, and are void of inhibitory receptors such as the Killer Inhibitor Receptors (KIR). They have elevated levels of granzyme and perforin for large cytotoxic potential. |
| High-Affinity NK cells or (haNK) | These NK cells have been modified to express high-affinity CD16, which has been correlated with better outcomes in immunotherapy. Thus, these are stronger binders to cancerous cells. |
| Target-Activated NK cells or (taNK) | These NK cells have been designed to produce/incorporate chimeric antigen receptors (CARs) as those known in CAR-T therapies. However, this technology is potentially superior to current CAR-T in terms of scalability, quality control, and consistency. |
Expenditure on R&D is smaller than would be expected as per Q3 report (2015). Table 2:
| | |
| --- | --- |
| Revs | 10 |
| R&D | 3,950 |
| Sales Admin General Expenses | 38,854 |
| Cash | 358,616 |
Generally, we are buyers of NK especially given the investor presentation at JPM.
As it pertains to Fate… It is unclear how productive NK is in creating the NK cell lines.
They do not specify in any detail how they create their NK cells, though we suspect this is to defend IP and prevent guessing.
Sorrento (NASDAQ:SRNE) will make a $9 million strategic equity investment in ConKwest and provide $2 million in research credit payments towards the development of novel CAR-tNK cell lines.
This investment is not significant given realities of space, cost of research. We will be looking for further news flow from both companies to further understand and look for developments in this collaboration.
Sorrento Therapeutics: We have no position or view on Sorrento Therapeutics. This brief snippet does not represent in any way the full depth or breadth of the Sorrento Therapeutics business and science.
Sorrento is in a partnership with NantKwest to produce CAR.Tumor-targeting NK CELLS (CAR.TNK) cells.
Sorrento mostly deals with antibodies, but the collaboration with NK tries to integrate both sciences. This in a way "diversifies" Sorrento and presents a potentially strong future therapeutic area.
Table 3. SRNE NK Cell line
| | |
| --- | --- |
| CAR.TNK cells | These CAR.TNK cells lack IL-6, which is a problematic receptor involved in cytokine release syndrome (a potentially fatal outcome of CAR-T treatment). Sorrento can create these in a bioreactor. |
The collaboration with NK seems to have developed into subsidiary company TNK Therapeutics.
Sorrento wholly owns this company.
Additional information on the company is sparse. We continue to dig, but have admittedly not gone far down the SRNE + NK rabbit hole.
Concluding thoughts on competition between CAR-T, antibody, and antibody mimetic therapies:
In general, the major competition to NK cells as a whole is CAR-T therapies though that isn't to say the converse is true either.
CAR-T therapies are much more toxic if effort is not put into customizing their receptors as expressed.
NantKwest is one of the only other public companies directly interested in producing "off-the-shelf" NK cells, unless the larger conglomerates are exploring this, but not publicly dissemenating it (e.g., Amgen (NASDAQ:AMGN), Roche (OTCQX:RHHBY), Pfizer (NYSE:PFE), Johnson & Johnson (NYSE:JNJ) etc.)
Exception to the conglomerates and big names is Celgene's 1B+ investment into Juno as described in Bret Jensen's Seeking Alpha article.
What really puts this deal in our crosshairs is that Juno's initial investment into Fate was of a similar nature where Juno purchased Fate stock for almost a 100% premium to PPS in May 2015.
This investment was priced high, like in Celgene+Juno, to help Juno capture a larger piece of the Fate "pie." This is best explained in this YouTube video.
Celgene also named a board member to Juno, as discussed above.
Management Notes
In general and in our view of the pre-revenue biotech world, we typically do not assign a large weight or value to management background as biotech is mostly about the future therapeutic potential of the pipeline of the company itself.
However, we see Fate as an exception for several reasons. Fate has assets on which it can act immediately and collect revenue in potential licensing opportunities. We are seeing this being done with the current collaborations, and anticipate that additional collaborations could be announced, especially for the iPSC and NK franchises, made possible by the scientific teams headed by Dan Shoemaker & Bahram Valamehr, and Cindy Tahl & Scott Wolchko on the deal-making side. Additionally, management and the board members have created significant value and made important decisions at their resident companies. Some examples, which truly shine are: Genentech, Idec, Receptos (RCPT), Illumina (NASDAQ:ILMN), Drugstore.com.
We specifically like Cindy Tahl from the exec team for her vast IP law experience and ability to secure fair favorable deals. We are also blown away by the publications of Daniel Shoemaker and Bahram Valamehr.
Therapies:
ProTmune
Table 4. ProTmune and Primer on Graft versus Host Disease
Background (Immuno-Oncology)
Summary (ProTmune)

Immuno-oncology (the process of using endogenous immune functions to fight cancer) is based on three types of cells:

| | | |
| --- | --- | --- |
| T-Cells | NK Cells | CD+ Cells |

The therapy is generally done by "Adoptive Cell Transfer" (ACT), which takes a patient's cancerous and immune cells, alters the immune cells so they are more aggressive against the tumor, and then reinjects those altered immune cells into the patient.

ProTmune is the process of removing donor cells (Bone Marrow or blood T-Cells), treating with FT1050+FT4145, and either re-injecting into the host or saving it on the 'shelf' for use.

Issue

These ACT regimes are becoming more common, as they are powerful. However, they inhibit the person's immune system by down-regulating hematopoietic function, lowering stem cell generation, and thus T-Cell numbers.

80% of Hematopoietic cell transfer patients experience severe infections, and ~30% of mortality from HCT is within the first year and attributed to infections.

This is termed graft-versus-host disease (GvHD), and accounts for 2 negative phenomena: 1 the newly introduced cells attack the healthy host cells, and 2 the entire immune system is compromised due to the re-introduced cells being "busy" fighting the host.

| | |
| --- | --- |
| | Proliferation in Mixed Lymphocyte Reaction Assay (MLR) is reduced |

| | |
| --- | --- |
| Inflammatory properties reduced: | T-Cells had increased IL-10, and reduced Th1 & Th2, which increase inflammation |

| | |
| --- | --- |
| | Mice receiving a lethal irradiation dose but receiving FT1050+FT4145 treated bone marrow grafts had much higher survival rates and much lower GvHD scores than those that received cells only treated with vehicle |

Ex-Vivo Reprogramming

Previous studies have shown that the chemicals Prostaglandin E2 (PGE2) and dimethyl-prostaglandin E2 (dmPGE2) (FT1050+FT4145) both increase cell proliferation (ex vivo) and alter expressed proteins that affect allogenicity.

| | |
| --- | --- |
| | Mice given a sub-lethal irradiation dose, followed by ProTmune treated human HCT had much higher survival rates and immune response compared to mice that received vehicle-treated human HCT. |
Not only did the ProTmune therapy prevent mortality in mice that would otherwise die from allogenic response following radiation exposure, but it also displayed that infection and inflammatory complications from HCT itself could be dramatically reduced. We believe ProTmune to be a viable clinical therapeutic, and will pave the way for FDA-approved off-the-shelf iPSCell lines from future FATE projects.
Juno Collaboration
As of May 6, 2015, Juno agreed to provide both financial and scientific supportto Fate for the screening and identification of novel small molecules that can modulate the biological properties of Juno's genetically engineered CAR/TCR T-cell immunotherapies. Juno's immunotherapy products are designed to act against specific tumor-associated antigen targets, and Juno will have exclusive rights to use small molecule/s that can be used in such immunotherapies. In Fate's favor, one small molecule can be used across multiple products and Juno will pay Fate additional fees, milestones, and royalties for each product using one of Fate's molecules. For the first 5 products, these fees, milestones, and royalties could be worth up to $500M total (even if they all use the same molecule).
Although Juno will pay for the screening and identification of molecules, Fate retains exclusive rights over any molecules that cannot be used to modulate Juno's genetically engineered CAR/TCR T-cell immunotherapy products. For example, because iPSC-derived T-cell products are excluded from this collaboration, Fate retains exclusive rights over molecules that can be used to modulate such products – even in immunotherapies against the tumor-associated antigen targets selected by Juno. Such terms provide Fate with exceptional opportunity to leverage the collaboration.
Induced Pluriopotent Stem Cells (iPSC) for Cancer Therapies
Recently, with the expansion of stem cell research, labs have been able to identify how to generate stem cells in vitro as well as differentiate them into specific types of cells. This allows scientists to create a seemingly unlimited supply of specific types of cells for a variety of uses. Relevant to immuno-oncology, this means T-Cells and NK-cells can be generated in the lab.
Further, T-Cells and NK-cells are undergoing new research in producing anti-cancer receptors. Thus, the potential exists to create specific T-cells and NK cells for a variety of cancer targets and therapeutics, since these cells can 'sense' & kill malignant cells.
Current Barriers and Issues with iPSC
Human cells like to aggregate; they don't want to be single-celled organisms. This is an evolutionary trait. When stem cells aggregate, they tend to differentiate into certain types of cells, thus losing the powerful stem cell ability of pluripotency (ability to become any type of cell). To ensure that stem cells retain their pluripotency, efforts must be made in the lab to keep stem cells from contacting one another.
If the stem cells do contact each other, this causes (1) heterogeneous cell mixtures and (2) slow, or non-uniform growth patterns, both of which are bad for producing off-the-shelf immuno-oncology cell lines.
Introduction into iPSC, specifically those that differentiate into blood-type cells (hematopoietic stem cells)
(click to enlarge), Figure 1 iPSC flowchart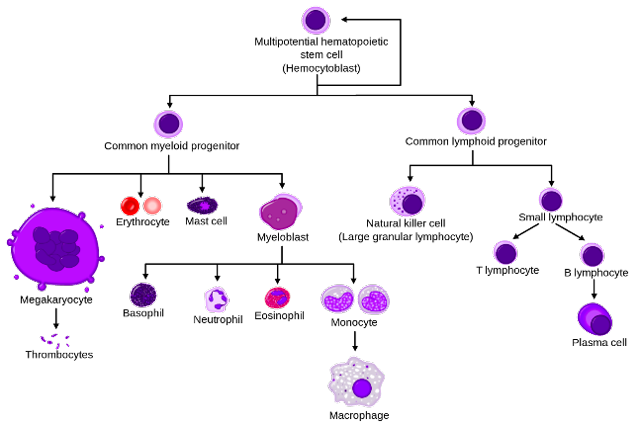 Currently, these cells can be made from a patient's (or donor's) bone marrow, peripheral blood, or umbilical cord blood. They are then genetically altered and/or chemically treated to either produce more stem cells, or to produce a specific type of immune cell, such as the T-cell or NK cells. Further modification can make these cells target and kill a variety of cancer cells.
Thus, the field of off-the-shelf immuno-oncology has been born.
Immunocology Franchise (Natural Killer Cells with University of Minnesota, Translational to Clinical)
Fate's program around NK cells (including programmed adaptive NK cell candidate and pluripotent NK cell work) and its off-the-shelf iPSC approach are important parts of the pipeline and are currently in the preclinical stage. In fact, the adaptive NK cell program (donor-derived, not iPSC-derived) is currently undergoing clinical translation with Jeff Miller at the University of Minnesota. Fate is expected to give consistent updates and readouts around programs in 2016, just as they will with the ProTmune candidate and additional research programs. The program is very much treated like any other trial, even though some of its largest value creation at current stage is simply from the knowledge gained through research (From FATE Investor Relations). Data and presentation due out at the BMT Tandem meetings later this month.
Fate Therapeutics: Bringing iPSC to the shelf
It has been difficult to produce single-cell iPSCs for large scale: aggregates form spontaneously in vitro, and single-cell dissociation from aggregates causes cell-death. However, scientists have been able to identify small molecules that inhibit cell-death upon dissociation, thus producing stable single-cell pluripotent stem cell lines.
It is somewhat easy to create single-cell iPSCs. However, existing methods for doing so produce cells that are genetically modified, and regulations make it very difficult for these to be used in vivo. Accordingly, methods that don't use trans-genes were investigated by FATE.
FATE subsequently has created a culture medium in which to grow iPSCs termed SMC4. This provides a platform to grow single-cell iPSC lines that can later be altered and screened in a high-throughput fashion.
These are spoken on here.
Small Molecule Cocktail of 4 Inhibitors (SMC4) Media
This contains inhibitors for the following targets: transforming growth factor beta (TGFbi), Mitogen-activated protein kinase (MEKi), glycogen synthase kinase (GSKi) and Rho-associated protein kinase (ROCKi).
However, after extended periods of time, iPSCells grown on this media start to differentiate and no longer act as stem cells.
Fate Maintenance Medium (FMM)
FATE thus found an additional media that could keep cells in their stem-cell stage, FMM:
Inhibits ROCK, GSK3, and MEK pathways via small molecules
Inhibiting these pathways causes the cells to become pluripotent (true stem cells)
Contains basic fibroblast growth factor (bFGF)
Poorly understood mechanistically, but this also causes cells to remain undifferentiated
Contains leukemia inhibitory factor
Causes cell proliferation, growth and division
FMM + SMC4: A Superior Media for iPSC Growth
FATE discovered that growing cells on SMC4 and subsequently transferring them to FMM caused the cells to no longer differentiate, sustain healthy growth, and express stem-cell line markers. This has significant research implications for the stem-cell field.
This is FATE's platform for creating off-the-shelf pluripotent stem cells that can be stocked and cryo-preserved for subsequent use.
From iPSC to Clinical Trials
Given their platform to grow stable stem cell lines, Fate is able to:
1. Produce high volumes of cells for FATE's in-house high-throughput screens for the identification of novel T-Cell and NK cells for immuno-oncology, as well as stem cells for auto-immune and degenerative disease therapies.
2. Offer their platform and services to other companies that require cryogenic preserved undifferentiated or made-to-order cell types.
From FATE iPSC to Academia
FATE has begun a collaboration with U of MN researchers Dan Kaufman and Jeffrey Miller. The collaboration with Dr. Kaufman explores use of induced NK cells for cancer targets. This will speed research with FATE's efforts to produce immuno-oncology candidates for clinical trials. The collaboration with Dr. Miller will help identify novel ways to produce target-specific NK cells for immuno-oncology. Currently, Dr. Miller studies a virus which is the only known biological entity to allow NK cells to have specific targets. These NK cells are termed 'adaptive NK cells' and promise a new avenue of immuno-oncology. FATE & Dr. Miller hope to find the specific protein/small molecules responsible for the 'adaptive' changes in NK cells.
(click to enlarge), Figure 2 representation of hiPSC for off-the-shelf franchise

Summary of our take on iPSC Work:
Fate Therapeutics has developed a production line of iPSCs which can be differentiated into clinically and academically useful cell types. Not only does this allow FATE to pursue their own research at a fast pace, but also provides the opportunity for other companies to collaborate with FATE for their own iPSC generation services.
With the field of immuno-oncology growing rapidly, we expect many major players to show interest in FATE's proprietary platform. We already see this happening with the JUNO collaboration, which is worth up to 500 million in milestone payments.
Due to this proprietary iPSC platform, we believe FATE has a strong potential to become a buyout candidate.
We point to Cellular Dynamics + Fujifilm as a partial precedent.
It is interesting to note that Fate's only competitor, Kyowa Kirin from Japan (non-USA markets), just caught the eyes of Takeda (OTCPK:TKPYY) in a collaboration in Kyoto where Takeda alone invested over $1B USD. We believe that Fate's knowledge, expertise, and platform as led by the scientific team of Dan Shoemaker and Bahram Velamehr, could fit perfectly into a collaboration such as this.
(Watanabe et. al (2007). A ROCK inhibitor permits survival of dissociated human embryonic stem cells.)
(Xu et. al (2010). Revealing a core signaling regulatory mechanism for pluripotent stem cell survival and self-renewal by small molecules.)
Valuation:
Valuation Methodology:
Our valuation methodology comes from a discounted cash flow of Fate's research partnership with Juno adjusted down to 200m USD aggregate to account for some risk. We believe that a trigger is possible into 2017 and onwards. We have also used this thinking to model out any potential future revenue of licensing and remained conservative. We do believe a higher valuation is indeed possible, but have stayed with our conservative nature and higher WACC to reflect pre-clinical and early stage nature of the company, while keeping in mind IP and revenue opportunities from licensing.
We have also been extra conservative and used numbers closer to our lower percentile due to licensing possibilities. This stems from the fact that rNPV becomes lower when companies seek such income streams.
Catalysts:
We believe that 2016 provides FATE with the following catalysts:
– Initiation of clinical trials for ProTmune.
– Translation into clinical work (donor based NK portfolio).
– Early data readouts at the BMT tandem meetings in Hawaii later in February ProTmune.
– GvHD or ProTmune potential partner.
– Advancement and readout on NK or iPSC research at BMT Tandem readings.
Risks to Valuation:
As with any pre-revenue company, our valuation risks overstating actual future free cash flows. Specifically for biotech companies, the major risk to valuation is the uncertainty of product effectiveness, and thus regulatory approval. At this time, we believe Fate Therapeutics holds a relatively smaller risk of failure than its peers; however, the risk is always present.
As such, we have stuck to conservative clauses as always, and placed the WACC of FATE at 20%. Further, on the plus side, we do see a "de-risking" potential as Fate triggers milestones and achieves trial end points, or progresses through phases for all of its franchises.
(click to enlarge) Figure 3, Football field (Only First Quartile Considered)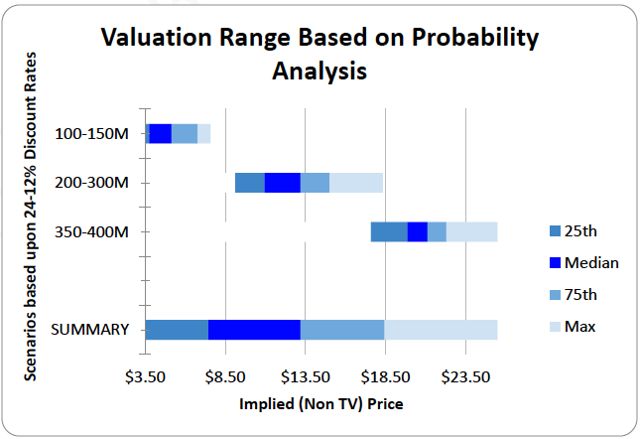 Figure 4: Historical and Pro Forma Income Statement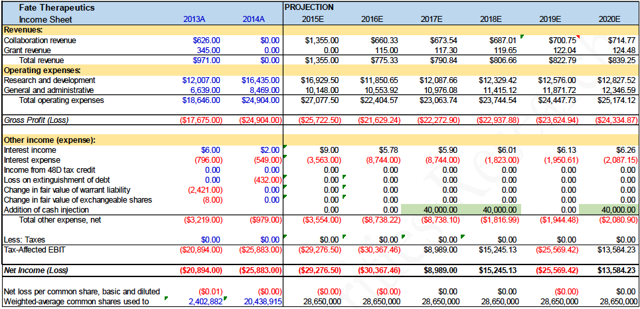 Figure 5: Discounted Cash Flow Analysis

Figure 6: Historical and Pro Forma Balance Sheet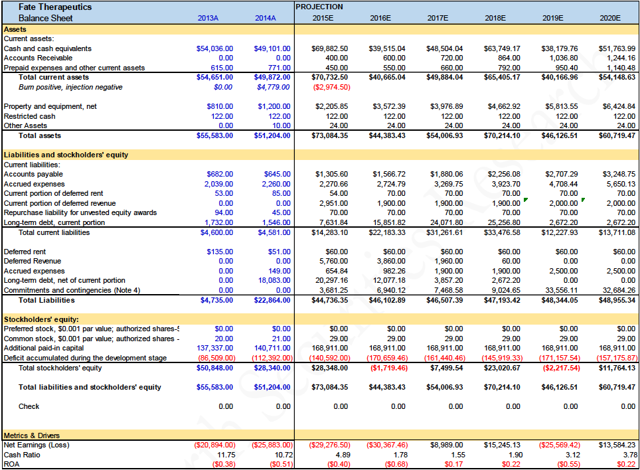 Disclosure: I am/we are long FATE, CELG, JUNO, JNJ.
I wrote this article myself, and it expresses my own opinions. I am not receiving compensation for it (other than from Seeking Alpha). I have no business relationship with any company whose stock is mentioned in this article.
Additional disclosure: We may initiate a long position on Sorrento later on. We have no plans of selling any of our positions for at least one year.
Editor's Note: This article covers one or more stocks trading at less than $1 per share and/or with less than a $100 million market cap. Please be aware of the risks associated with these stocks.