Dynavax: Powerful Prospects Lost In Market Noise
Summary
Dynavax has recently finished a Phase III trial, with data that has met all previous concerns of the FDA.
Based on promising results, Dynavax and its collaborator, AstraZeneca, have agreed to bypass Phase Ib in an asthma indication drug and accelerate the full clinical workflow through AstraZeneca.
In its latest earnings release, the company indicates it can sustain itself well into 1Q 2017 with cash on hand, with no additional funding, milestones, or dilution.
Still, the stock price is near a 52-week low.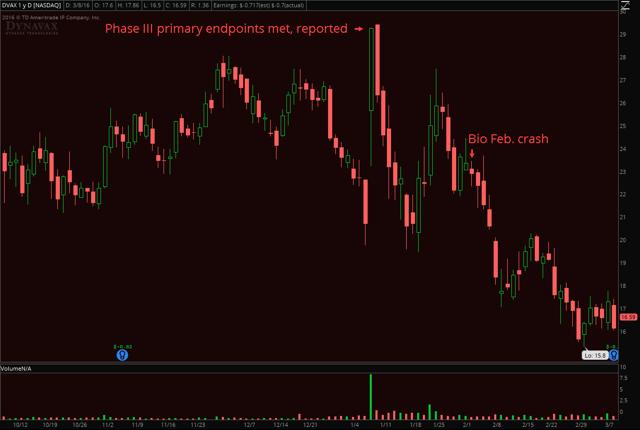 Figure 1. Dynavax's October 2015 to Present Chart
Background – The Basic Science of Dynavax's Vaccines
Dynavax Technologies (NASDAQ:DVAX) is a multi-pipeline pharmaceutical company based around activating or deactivating our own immune systems. The specific therapeutic target of this company is the Toll-like Receptors (TLRs). The long story short is that Dynavax makes synthetic DNA from known viruses (such as hepatitis B) that our body can recognize and subsequently prepare for. This is how the majority of vaccines work: either a protein, DNA, or RNA are injected into the body (that by themselves do no harm), which causes the body to attack them and, most importantly,remember them. Thus, after stimulation of our immune system with these synthetic DNA segments, our body will naturally disable the real threats, such as hepatitis B.
Dynavax's Positive Results – Market Reaction
The bottom line was that Dynavax's drug HEPLISAV-B™ was significantly better than the control (GlaxoSmithKline's (NYSE:GSK) hep B vaccine, Engerix-B):
The peak seroprotection rate (SPR) in participants with type 2 diabetes mellitus who received HEPLISAV-B was 90.0%, compared to 65.1% for Engerix-B, demonstrating non-inferiority and a statistically significant higher percentage of seroprotection provided by HEPLISAV-B compared to Engerix-B.
The peak SPR in the entire HBV-23 HEPLISAV-B group (95.4%) was statistically significantly higher than the peak SPR in the Engerix-B group (81.3%).
The peak SPR in the HEPLISAV-B group was statistically significantly higher than the peak SPR in the Engerix-B group in each age decile.
The peak SPR in the HEPLISAV-B group was statistically significantly higher than the peak SPR in the Engerix-B group in each prespecified subpopulation analyzed, including by sex, body mass index, and smoking status.
Repeated late-stage evidence that shows two injections of HEPLISAV-B can provide better protection against the virus, when compared to the standard three injections of Engerix-B.
As can be seen in Figure 1, DVAX's stock price went from low $20s to above $29. However, over the course of just one week after, it declined back to pre-data release levels. Additionally, the stock suffered the same fate as most mid-cap biotech companies in February, plummeting nearly 20% over the course of another week. Most ironically, not even 2 months from the positive Phase III data indicated above, the stock hit a 52-week low. How can we explain this rationally, or is this price completely unjustified?
Proceeding Press Releases and Events
The next major news from the company was that Dynavax and AstraZeneca (NYSE:AZN) amended an agreement with their collaboration drug AZD1419, which is being developed for the treatment of asthma. The drug works in an inverse fashion to HEPLISAV-B; instead of stimulating the immune response, AZD1419 suppresses it, limiting the symptoms of asthma.
The respective Phase 1a study demonstrated its safety and tolerability in healthy subjects, which the FDA previously requested in 2013. The study also produced dose-dependent induction of genes, indicating presence of the drug at the target site and expected activity. On the basis of those results, the parties agreed to bypass a planned Phase 1b trial andproceed directly to Phase 2.
"We are currently working with AstraZeneca to design the new trial, which AstraZeneca will fully fund and conduct, and which we expect will begin in the second half of 2016."
As if the large caps' full adoption of the clinical trials wasn't exciting enough,milestone payments necessarily accompany the announcement, as is outlined in this quote:
Following the news, the stock rallied from 20.78 to 26.1 (Figure 2), or an increase of over 25%, a strong rally, but not unprecedented for such news. However, again, the stock rapidly fell off, followed by a weak two-day correction with a close of 24.09 on the last day of January, the dayimmediately before the biotech sector was hit hard continuously for a week.
Figure 2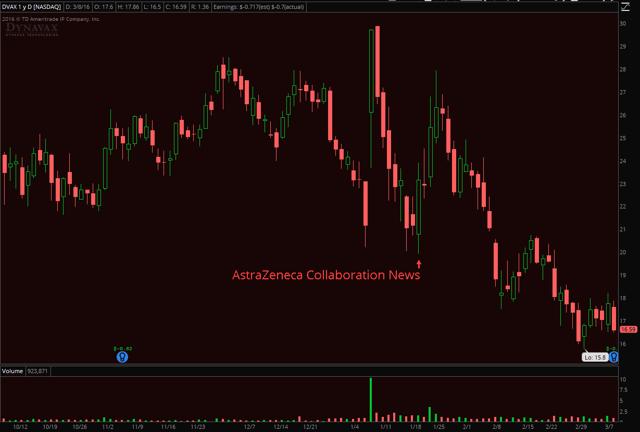 By February 8th, the stock had hit record lows even after two extremely bullish press releases, one of which was a positive phase III trial, and the second being full adoption of a collaboration by a large-cap biotech company. At this point, all positive price action of the stock had been completely erased, regardless of only positive changes in the company's standings.
March 8th Price Action
Biotech took another hit on March 8th. DVAX was no exception, with a decline of 6.5% during the trading day. Although it is likely predominantly due to overall sector performance, a hepatitis B "cure" had made a press release during the morning hours, which was summed up in this SA article. There are two points to make about this type of "cure" and its effect on DVAX.
This cure is an RNA interference mechanism. Although these are potent drugs, they treat the symptoms for a virus, but do not kill the virus. Thus, their curative properties are dependent on constant dosing and check-ups.
Hep B cures do not remove the power and importance of hep B vaccines.
Financing? Cash Burn? Management? Where's the explanation?
Financials
The company currently has $196 million in cash as of December 2015, andno debt. It is becoming increasingly common for small clinical-stage biotechs to reduce debt, and DVAX is no exception. Its current balance sheet by itself, therefore, is no reason to be bearish. However, the company does have access to a $90 million shelf, which is under the wing of Cowen and Company. This shelf of common stock can be sold at market prices by authority of Dynavax, with a 3% commission to Cowen. The shelf is still available to the company in its entirety as of December 31, 2015. With that said, it would only dilute (execute the shelf sales) if it required cash.
Cash burn
Dynavax reported a cash burn of $92.6 million for the year. The company stated it had no worries as regards cash needs for the next 12 months. However, the cash burn for 2016 is likely to be larger than that in 2015, as it will continue to spend substantial funds in connection with the development and manufacture of HEPLISAV-B and the investigational cancer immunotherapeutic product candidate, SD-101. The company sums up guidance on expenditures:
"Costs relating to HBV-23 R&D expense are declining following the last subject visit in October 2015, and costs relating to seeking regulatory approval and preparing for the anticipated commercial launch of HEPLISAV-B in the United States, as well as costs related to the ongoing development of SD-101, are increasing. In order to continue these activities, we may need to raise additional funds. This may occur through strategic alliance and licensing arrangements and/or future public or private debt or equity financings."
In total, Dynavax will easily last through 2016, and likely into 1Q 2017, with the cash on hand. Milestones paid from AstraZeneca would inevitably prolong this stable financial state, and dilution of the stock (although negative in the short term) would bring the company into the second half of 2017. Upon FDA approval of the BLA, a dilution of stock would not be so negative, as it would likely bridge the company to enter into a profit-producing position.
Management
CEO Eddie Gray has 30 years of experience working with GlaxoSmithKline and affiliated companies, serving positions such as vice president and director of the Vaccines Business Unit.
The company's CSO, Dr. Robert Coffman, has published over 200 scientific papers. His work helped define T-Cell regulation in asthma, as well as pioneered TLR agonist and antagonist development.
Steven Gersten, VP and general counsel, has worked in the U.S. Department of Justice, dealing the FDA cases. He has experience with AbbVie (NYSE:ABBV) and Abbott Laboratories (NYSE:ABT) totaling over 14 years.
The chief medical officer, Robert Janssen, has served as VP of medical affairs for Gilead (NASDAQ:GILD) and 23 years working with the U.S. CDC.
With representation from AbbVie, the U.S. Department of Justice, GlaxoSmithKline, and Gilead, among others, management does not seem a reason to be bearish on the company.
Market Sentiment
If you have held biotech stocks, it is likely you are aware of the major downtrend within the sector we have experienced in the past two months. Small-, mid-, and large-cap biotech companies all faced a bearish trend, with many speculative, clinical-stage biotechs being hurt the most. Dynavax had a very large short percentage as of January 26th, amounting to 28% of the float. Thus, there was large pressure on the stock price, causing it to go down.
Summary
The most pressing information needed for Dynavax is BLA submission and FDA approval for its hep B drug. Given that the company's recent Phase III trialhas addressed the FDA's previous concerns for HEPLISAV-B in different age groups, it is extremely unlikely that the drug will not get approval. To put this in perspective, the projected market for the hep B vaccines is over $1 billion per year, with an estimation of $1.19 billion by 2022. May I remind you the market cap of DVAX is currently $637 million, with an enterprise value of $461 million.
Beyond the hep B drug, the collaboration with AstraZeneca involving asthma targets is accelerating, and from the looks of it, AZN is extremely optimistic. Additionally, Dynavax's SD-101 drug, involved in immuno-oncology (IO), seems competitive and in line with other immuno-oncology paradigms currently being pursued by a large portion of both small- and large-cap biotech. Although these other pipeline candidates are enticing in themselves, the stock price is currently completely ignoring the most recent advances in the company's most important candidate.
Disclosure: I am/we are long DVAX.
I wrote this article myself, and it expresses my own opinions. I am not receiving compensation for it (other than from Seeking Alpha). I have no business relationship with any company whose stock is mentioned in this article.