CytRx: Ok Science, Bad Past, Unknown Future
Summary
CYTR has shown that adding a chemical linker group to an old chemotherapy drug seems to have a few improvements, and Progression Free Survival is enhanced.
Overall survival is not significantly different.
The cardio-toxic effects of the old treatment (doxorubicin) were completely removed for CYTR's drug (aldoxorubicin).
P3 data with larger population is expected this quarter, and will likely show greater statistical difference in overall survival.
Additionally, we analyze a questionable past, extensive CytRx-associated M&A movements, and some financial considerations.
There are two major, divergent parts of this article (and the company). First we're going to cover what the company is built around; the science of aldoxorubicin. Secondly, however, we're going to look into the management's past, and how the company has come to be.
Here's the basic science background:
CytRx (NASDAQ:CYTR) has designed an old chemotherapy drug (doxorubicin) to bind to a very common protein that circulates in the blood called albumin, they call their compound "aldoxorubicin". This binding is done by adding a chemical linker which has a chemical group called a "maleimide" that binds to serum albumin but also can be cleaved in acidic conditions. Yada yada yada…
The fundamental idea is that the pro-drug circulates around the blood stream, bound to albumin, but when in contact with acidic conditions, the linker is chemically cleaved, releasing free doxorubicin, which is then uptaken in the surrounding cells.
This approach makes sense due to the fact that tumors have more acidic environments surrounding them, so in theory, the doxorubicin should only be released in areas near tumors.
This tumor-specific accumulation has not been proven to date in humans (it has been shown in rats who have tumors as big as their heads), but the idea isn't new, and research laboratories have been experimenting with this for some time, usually with good results.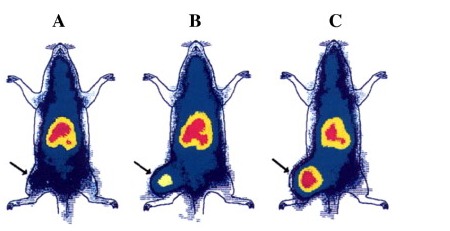 This image, rats are shown where the aldoxorubicin is accumulating (yellow/red). The arrow points to the tumor. As you can see in B & C, aldoxorubicin accumulates in the tumor. So, unsurprisingly it seems the bigger the tumor the more aldoxorubicin accumulates… We're not really sure if this proves the concept or not.
The other accumulation is in the liver. Luckily, the pH of our livers is relatively neutral, however aldoxorubicin does show some liver adverse effects.
Lets go over the results of the Phase II Trial:
There are some obvious benefits to aldoxorubicin (aldo) versus traditional doxorubicin (doxo):
Progression free survival is enhanced with aldo
There have been no cardiotoxic effects in 200 patients to date
Less discontinuations due to adverse events
Now lets go a little more in detail
The progression free survival was enhanced significantly with aldo, as can be seen below.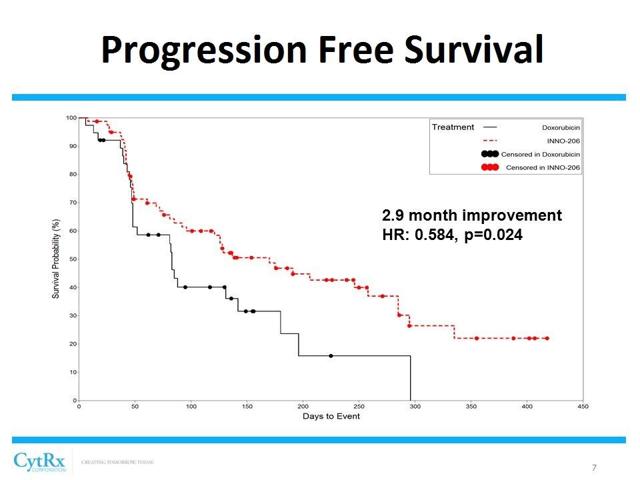 Two points are to be made.
Firstly, its clear that early treatment showed less effect and it wasn't until nearly 2 months that a difference was to be seen.
Secondly, there was a much greater prolongation to 20% of the population in regards to progression-free status. We can conclude from this that likely aldo works in at least similar efficacy to doxorubicin, if not better.
No cardiotoxic effects to date with aldoxorubicin
Out of 200 patients to date, there have been no cardiotoxic events reported with aldo.
That is in stark contrast to doxorubicin which has been reported to have acute cardiotoxic events at 4% in 500-550mg/m2 and up to 36% of patients at 600mg/m2 indicating serious risk.
Although aldo doses are not easily comparable to doxorubicin, due to its inherent binding properties, up to 1500mg/m2 have been shown to have no cardiotoxic events.
Less discontinuations in the aldo-arm of the Phase II trial than in the doxo arm.
In tally, 6% of the aldo treated patients withdrew from the trial, while 8% withdrew from the doxo treatment, indicating at least similar, if not diminished "intolerable" adverse events.
Bearish Perspective on the study
It has been brought up by some researchers that the patient demographic may actually be the reason for the beneficial results observed in the phase 2b study.
The only possible difference would have to be attributed in the "other" category of tumor histophathologic subtype, since all other baseline characteristics were relatively similar: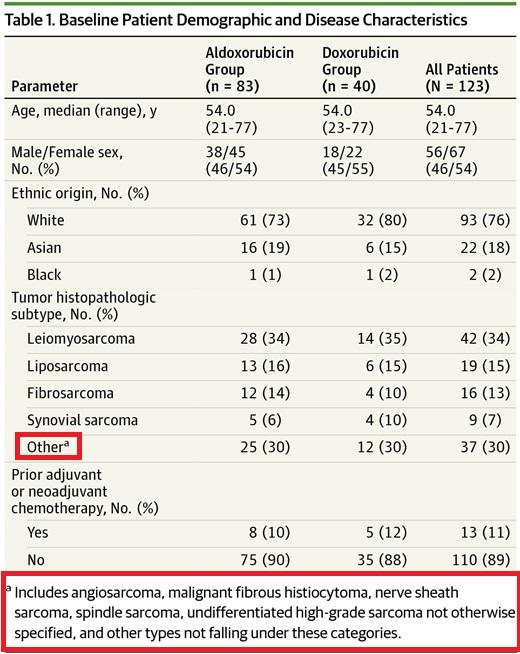 Key differences could be hiding in that "other" category, which make up a staggering 30% of the population.
If, for instance, a more aggressive sarcoma was enriched in the control arm, this would obviously skew the results in favor of aldoxorubicin. We can't speculate, but researchers who dealt with the study indicated that this was a possibility.
Death and FDA-Issued Halt
There was a death in one of the trials of CytRx, and the FDA issued a halt for investigation. Although complete details aren't disclosed, what we could find is that the patient was admitted to the treatment based on Compassionate Care (anyone who REALLY wants to be in the trial can be) however, the patient would not have passed the inclusion/exclusion criteria – i.e. it was known that his conditions were compoundingly negative, and it was a high risk for the patient to initiate the trial.
Once investigated, the FDA removed the halt, and the trial continued without anymore investigational deaths.
Management's Past
Paid Pumping Of The Stock
This article sums up previous paid promotion attempts that were employed (literally) by the company. These were done 2 years ago, starting approximately March 2014. We're currently unaware and have not been subjected to any pump schemes or articles about the stock this year, but it is important to realize the company has done this before.
Up to 100 articles had been withdrawn that had originally been written by a company named "Dream Team", which is known to do paid promotions in order to increase stock prices.
From the SA article:
The articles were provided from Dream Team directly to CytRx and Galena. Management then edited and approved the articles and would have seen the lack of disclosure.
That is a pretty heavy hitting statement. And really, we encourage you to read that article above. It's quite revealing.
Our Research
If you head over to the stocktwits page, you might notice an exceptionally large increase in message volume and that the sentiment has nearly always been bullish. You might even notice one account in particular that doesn't seem to have an off-button.
Additionally, the yahoo message board is fairly well populated with lofty price targets.
Of course, stocktwits and yahoo message boards aren't exactly convincing data that there is an active pump going on, but it is important to take many of these forums and message boards with a grain of salt.
Court Cases
This is a case following the alleged paid stock promotion, dated July 2015. Here's some minutes:
CytRx's "Compensation Committee granted the[se] spring-loaded stock option awards on December 10, 2013, the day before CytRx announced" clinical trial results related to aldoxorubicin, "information which Defendant Kriegsman described as 'the most important news in our company's history.'" (CCAC at ¶ 13 (emphasis in original).) A spring-loaded stock option is one that is timed to precede a positive company announcement, such that the option holder will receive a larger profit. The December 11, 2013 aldoxorubicin announcement was then " amplified by a same-day, and highly misleading, promotional article touting CytRx," causing the price of CytRx's common stock to grow 127% that week.
There is plenty more. Read it if you want.
…Kriegsman had in fact "taken prior actions to stabilize and manipulate the price of the Company's securities by personally editing and approving the DreamTeam articles."
Moving on, CytRx said that it has expanded its management team by three people, all of whom come from CEO Steve Kriegsman's investment firm, The Kriegsman Group.
It seems that Mr.Kriegsman's investment firm is incredibly lucrative and has a long history of success.
In 2000, Kriegsman invested several million dollars in LA based Global Genomics. Two years later, that firm was acquired by CytRx Corporation. Kriegsman became the interim CEO of CytRx in 2002 and the full-time CEO in 2003.
We're not positive, but this might be where Kriegsman's involvement in CytRx began.
The Kriegsman group has, multiple times, became involved with a company by offering "advice and assistance" with finances. Following this, CytRx adopts a member from the company on to its board of directors. At which point a merger or acquisition takes place via Mr.Kriegsman's connections. Here is one for $SUPG:
In March 2001, we retained The Kriegsman Group to render advice and assistance with respect to financial consulting and public relations services. On July 25, 2002, our former president and chief executive officer and board member through 2004 became a member of the board of directors of CytRx Corp. We also paid The Kriegsman Group consulting fees of $220,000 in 2003. No consulting fees were paid to Kriegsman in 2005 or 2004.
SUPG changed its ticker to $ASTX and was bought out by Otsuka Pharmaceutical group. Pretty great deal. Interestingly, in 2009, CytRx has adopted Jaisim Shah on to its board of directors. Jaisim Shah was responsible for the global in-licensing and collaboration with Otsuka in a Phase III trial.
The Kriegsman group then moved into MGI pharma, which was subsequently purchased.
However, luck has not been as fantastic with Rxi Pharmaceuticals (NASDAQ:RXII) in which CytRx had a large investment and has continually sold shares of the company at decreasing prices.
What To Make Of It All
It should be clear to the reader that a paid promotional pump of the company was done, and that Mr. Kriegsman was aware. We're unsure why the case was dismissed in the way that it was – if someone can read law, we'd gladly appreciate comments.
Additionally, it should be clear that although these "questionable" activities had happened in the past, Kriegsman's investments seem to be solid. However, it seems the CytRx is somehow being used by Kriegsman and his firm to move acquisitions to take place. With that said, there is someone from Medivation (NASDAQ:MDVN) and Tokai (NASDAQ:TKAI) pharma on their board currently… Maybe it would be smart to follow them closely.
In light of all this "pumping", we'd like to indicate that insiders have not sold the stock (even in the face of a successful promotion of stock price), indicating that the promotional efforts were likely for the purpose of dilution, not insider selling. However, as indicated previously, many of the insiders were issued stock options the day before news releases.
There is no real way to put all this as completely negative (or positive), and this scenario is not as bad as seeing management do paid promotions followed by insider selling. This indicates the management may still believe in the company, but it also indicates that getting outside investments is difficult.
This has changed, recently, with the acquisition of a $40 million loan from Hercules Technology Growth Capital, Inc. This may indicate that the company has parted ways from paid promotions, and on to more legitimate practices of securing capital.
If we were to see a partnership from a well-funded, large Biotech company, our thesis would become less neutral and more bullish.
Finances
As of last quarter, the company was sitting on approximately $70 million in cash and zero debt (however, as stated above, they have secured the first $25 million of a $40 million dollar loan).
Since the company is in multiple clinical trials on-going, and possible FDA submission of aldo in the future, followed then by marketing, this will get the company into 2017, but likely not through to see the 2H of 2017. They will need additional partnerships, dilution (ugh), or loans (ugh).
So from here, the lack of partnerships is blaring, the acquisition of new debt is good only if they can show their platform works. This is a do-or-die moment for CYTR, and this debt has made Phase 3 failure a whole lot worse of a scenario.
Summary
To put it briefly, the science seems encouraging, however the technology is somewhat dated. With new liposomal targeting techniques across the board of chemotherapy, we don't see the adoption of aldodoxorubicin becoming a new standard. Of course, Phase III data may show very surprising results, in which case we'd again change our thesis to a more bullish perspective.
In a way, this reminds us in some ways of Celator Pharmaceuticals (NASDAQ:CPXX): a fairly simple, well-studied technology platform which is showing promise of enhancing previously used chemotherapy agents. However, without more data, we don't expect to see that wonderful 600% stock price increase that we've seen with CPXX since we published our article.
The financial and management status also seems neutral, if not slightly bearish. We're not entirely excited about CytRx as a whole, but perhaps actions could be taken place, or data released that would give a breath of fresh air for the company.
With that said, we are now researching Tokai and Medivation's connections with CytRx and Kriegsman.
Disclosure: I/we have no positions in any stocks mentioned, and no plans to initiate any positions within the next 72 hours.
I wrote this article myself, and it expresses my own opinions. I am not receiving compensation for it (other than from Seeking Alpha). I have no business relationship with any company whose stock is mentioned in this article.