Continued Derisking And Data Should Help Heron Take Flight
 Summary
011 Data was good, and suggests potential SoC / Best-in-class post-op pain management franchise.
We address the bradycardia AE and discuss the competition's convenient trial.
SUSTOL approval provides a unique CINV product with a broad label. Derisking platform for future products.
A lot of significant new-hires suggest pipeline expansion, pending corporate milestones or results. These have largely been overlooked and unnoticed by market.
We will very briefly discuss Heron Therapeutics as a whole, and more dive into the data. This article is largely intended for those who at some point have already been interested in, or plan to invest in Heron.
Segments:
Heron Therapeutics Introduction
HTX-011 Data Summary
HTX-011 & Bradychardia – Should we worry?
SUSTOL Delay Explanation
SUSTOL & Heron's Future
Introduction
Heron is a specialty biotech company working in the niche areas of chemotherapy-induced nausea and vomiting (CINV) and post-operative pain therapy. It has worked (and may continue) to bring to market existing drugs through the 505(B) regulatory pathway. This seeks to leverage off existing approval for fast (and inexpensive) FDA approval of old drugs for new indications.
They have the rights to the biochronomer platform, a delivery methodology that uses polymers to slowly release therapeutic agents by the dissolution of the polymer delivery encapsulate.
HTX-011 Data Summary
Recently, Heron Therapeutics (NASDAQ:HRTX) reported very encouraging top-line data on its leading pain management program, HTX-011, a unique and proprietary mix of Bupivacaine and meloxicam delivered on the back of the biochronomer platform.
This article will follow the data posted here.
The conference call can be located here. (Side note: This was an extremely early CC)
As is highlighted, HTX-011 aims to be the standard of care through:
While other current therapies are often recommended for off-label mixing, HTX-011 is meant to discourage this as it is effective alone.
By discouraging mixing (through effectiveness alone) this reduces toxicity, complexity, cost and complications. Since mixing & subsequent toxicity are easily documented and reported, repercussions from off-label mixing for CINV will have direct implications from the FDA and warning labels – something Heron is looking to avoid.
Additionally HTX-011 also requires no or minimal injection in order to prevent any venous adverse events. Coverage of a wide range of surgeries, including gender specific procedures, which target those seen as being most painful. Showing benefit over bupivacaine solution, the current standard of care.
To re-iterate and re-highlight the main portions of the recent data for HTX-011:
✔ Not encouraged to being mixed: This comes as one of the features of Heron's biochronomer platform and is further supported by the ongoing instillation vs injection trials. We would like to remind investors that this is a problem that has plagued liposomal bupivacaine previously.
✔ Require no or minimal injection in order to prevent any venous adverse events: The company displayed this through instillation data, though the full and finalized data sets are due out in September through October.
✔ Shows benefit over bupivacaine solution or ropivacaine, which the current dominant products for post-op care: HTX-011 demonstrates this, however there exist some non-significant cardiac AEs (<5%) which have held buyers and investors back. We will touch on this and why we don't believe it should be a concern, into HTX-011 P3.
✔ Covers a wide range of surgeries, especially those seen as being most painful: HTX-011 achieved very well sustained pain reduction over the initial 24 hours, and continued to have a lower pain intensity score through 78 hours post procedure. This is demonstrated in the following pain profiles: Bunionectomy (HTX-011B is the focus here, as Heron will not pursue 011A due to superior 011B PK/PD profiles)
Let's look at some DATA! Figure 1 shows pain for an extremely painful procedure – hernia repair – with HTX-011B compared to bupivacaine (and control).
(Figure 1)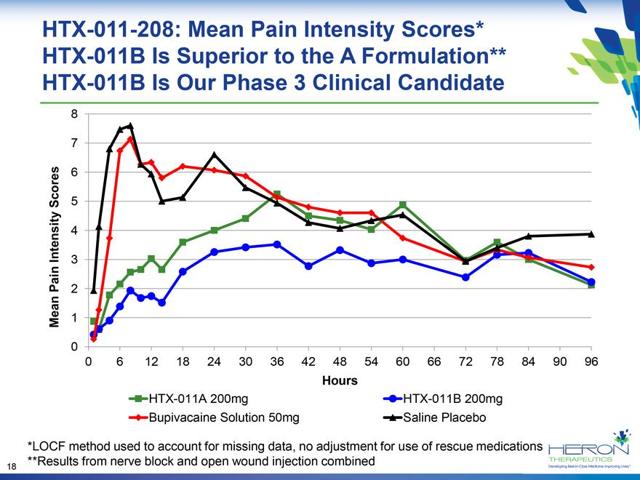 In Figure 2 the efficacy again is clear the p values up to approximately 42 hours is around 1-2 pain intervals lower than placebo.
(Figure 2)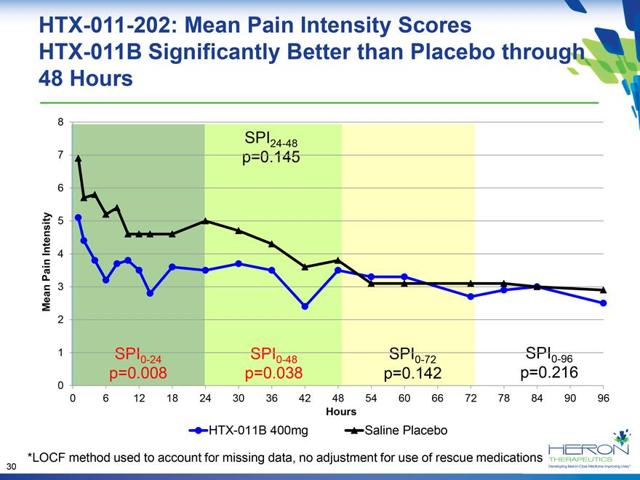 We believe the efficacy of HTX-011 is addressed in Clinically Sound Investor's Article here, an excellent write-up.
HTX-011 and Bradycardia
The topic of bradycardia and the impact it has had by holding down the pps after promising phase 2 data was released.
Bradycardia is a condition where a patient exhibits an abnormally slow heart rate. A normal person's heart rate at rest fluctuates between 60 and 100 beats per minute. An abnormally slow heart rate is thus considered any rate below 60 beats per minute. While bradycardia is normally a sign of problems within the heart, a very fit patient could exhibit a heart rate less than 60 beats per minute and be perfectly healthy. This fact must be taken into account when reviewing the incidence of bradycardia related to the HTX-011 treatment.
HTX-011 for hernia repair showed around a 4% incidence of bradycardia. This was cited by multiple sell-side analysts and has seemingly scared off HFs and buyers. That is justified on the surface, because as noted on the bupivacaine (sensorcaine) label:
If not treated immediately, convulsions with simultaneous hypoxia, hypercarbia, and acidosis plus myocardial depression from the direct effects of the local anesthetic may result in cardiac arrhythmias, bradycardia, asystole, ventricular fibrillation, or cardiac arrest. Respiratory abnormalities, including apnea, may occur. Underventilation or apnea due to unintentional subarachnoid injection of local anesthetic solution may produce these same signs and also lead to cardiac arrest if ventilatory support is not instituted. Ifcardiac arrest should occur, successful outcome may require prolonged resuscitative efforts.
Likewise Meloxicam which is another anti-inflammatory NSAID which is used in similar indications as HTX-011 can have poisoning that may result in:
Severe poisoning may result in hypertension, acute renal failure, hepatic dysfunction, respiratory depression, coma, convulsions, cardiovascular collapse, and cardiac arrest.
Scary stuff indeed, and most definitely something not to ignore – however whether we need to worry about it being anything more than slowed heart rate is unknown, and we personally believe it's an over-reaction.
Given these cardio overhangs of substances that are related to HTX-011, the PPS from data has largely been suppressed, but again, we believe this defensiveness to be over-extended.
Can we explain the bradycardia which seems correlated with HTX-011? Can we rationalize why the risk is minimal of cardio-events?
We should ask the following questions:
How is it possible for HTX-011 to have a smaller number of bradycardia events occur compared to multivesicular liposome bupivacaine?
Why were the event counts so low in hernia repair when compared to bunionectomy?
The answer, we believe, is very simple: Blood and tissue. The comparison of hernia repair to bunionectomy is apple to oranges. This is primarily due to the blood and tissue makeup of those locations.
The bunionectomy operation is in tissue that houses much less venous tissue in comparison to hernia repair. The bunionectomy is also much easier tocauterize than hernia repair.
This is extremely important and is indicative of something that can likely be circumvented by proper cauterization of blood vessels by the hands of the surgeon. While it may be that HTX-011 is causal of bradychardia, it is likely avoidable if the venous and arterial tissues are completely cauterized.
We encourage both longs and shorts to watch a YouTube video of both procedures to compare the two for themselves.
SUSTOL Delay and what we believe happened
We recommend that all investors refer to the following materials for our discussion of SUSTOL:
As shown in research performed by Heron and through management's discussions, it can be determined that a superior CINV product with abroad label has the potential to compete with generic products while being priced competitively to Aloxi.
This is pivotal and compelling for the company, as it will decide the company's decisions in terms of dilution, and a $50 million loan bearing a possible covenant to SUSTOL approval coupled with a broad label.
Again we strongly recommend that investors listen to Barry here. Barry discusses in detail, at the earlier investor conferences, the market potential of SUSTOL.
Let's turn our attention to some of the data from the paper.
Summary from the paper:
In a randomized, double-blind Phase III trial, a single subcutaneous dose of APF530 was noninferior to intravenous IV palonosetron in preventing acute chemotherapy-induced nausea and vomiting (CINV) after moderately emetogenic chemotherapy (MEC) or highly emetogenic chemotherapy (HEC), and also for delayed CINV after moderately emetogenic chemotherapy MEC, but was not superior to palonosetron in delayed CINV after HEC.
This Phase III trial (MAGIC Trial) evaluated efficacy and safety of APF530 versus ondansetron, both administered with fosaprepitant and dexamethasone (part of the currently established 3-drug regimen, as would be used in a clinical practice setting), for prevention of CINV after HEC. This is the first Phase III, registrational, efficacy trial comparing 5-HT3 receptor antagonists (RAS) in the presence of an NK-1 RA and dexamethasone for CINV prevention.
The primary end point was reached; the proportion of patients with delayed-phase complete response was significantly greater with the APF530 versus ondansetron regimen, with an absolute treatment difference of 8.0% (95% CI: 1.7-14.4; p = 0.014).
Additionally, the APF530 regimen was associated with significant benefits in rescue medication use, patient satisfaction with antiemetic therapy and, in a post hoc analysis, nausea frequency.
APF530 was generally well tolerated, with no new or unexpected safety findings.
The superiority of the APF530 regimen over the ondansetron regimen reported here indicates that the extended release formulation translates into a clinical benefit in the control of CINV after HEC, representing a shift from the view that 5-HT3 RAs are equally effective in this setting.
Here is the hard data from the journal article:
For the primary endpoint, the proportion of patients with delayed-phase CR was significantly greater with the APF530 (291/450, 64.7%) versus ondansetron regimen (256/452, 56.6%); the absolute treatment difference was 8.0% (95% CI: 1.7-14.4; p = 0.014). Within the cisplatin stratum, delayed-phase CR rates were 65.3% (81/124) with the APF530 regimen and 54.7% (70/128) with the ondansetron regimen; the absolute treatment difference was 10.6% (95% CI: -1.4-22.7).Delayed-phase CR rates within the noncisplatin stratum were 64.4% (210/326) and 57.4% (186/324) in the APF530 and ondansetron arms, respectively (absolute treatment difference: 7.0%; 95% CI: -0.5-14.5).
For secondary endpoints, overall-phase CR was numerically higher with the APF530 (263/450, 58.4%) versus ondansetron regimen (239/452, 52.9%), but not statistically significantly (treatment difference: 5.6%; 95% CI: -0.9-12.1; unadjusted p = 0.092). Consistent with delayed-phase CR findings, a greater proportion of patients on the APF530 (273/450, 60.7%) versus ondansetron regimen (240/452, 53.1%) had delayed-phase CC, with a treatment difference of 7.6% (95% CI: 1.1-14.0; unadjusted p = 0.022). Overall-phase CC rates were numerically higher with the APF530 versus ondansetron regimen (246/450, 54.7% vs 224/452, 49.6%; unadjusted p = 0.123) (Figure 2A & B). Rates of no emetic episodes in APF530 and ondansetron arms were 82.2% (370/450) and 79.2% (358/452), respectively (unadjusted p = 0.254). Controlling for overall type I error (Hochberg model) resulted in no secondary end points achieving statistical significance (Table 2):
| | | | | | |
| --- | --- | --- | --- | --- | --- |
| Parameter | APF530 n = 450 n (%) | Ondansetron n = 452 n (%) | Treatment difference and Hochberg-adjusted 95% CI (APF530 − ondansetron) | Unadjusted p-value† | Hochberg-adjusted p-value‡ |
| Overall phase CR rate | 263 (58.4) | 239 (52.9) | 5.6 (-2.3-13.5) | 0.092 | 0.275 |
| Delayed phase CC rate | 273 (60.7) | 240 (53.1) | 7.6 (-0.6-15.8) | 0.022 | 0.088 |
| Overall phase CC rate | 246 (54.7) | 224 (49.6) | 5.1 (-2.3-12.6) | 0.123 | 0.247 |
| Overall rate of no emesis | 370 (82.2) | 358 (79.2) | 3.0 (-2.1-8.1) | 0.254 | 0.254 |
† p-values based on the CMH χ 2 test controlled by use of cisplatin-based regimens ≥50 mg/m 2 (yes/no).
‡ Significance level of the four tests adjusted using the method of Hochberg (1988) to control overall type I error. CC: Complete control; CMH: Cochran-Mantel-Haenszel; CR: Complete response.
Type I error is the detection of an effect that is not present (false positive).
In our view: Heron Therapeutics wanted to provide a more robust data and control for Type I error using Hochberg model to derive the modified p value, but this may have been an overly conservative approach. As such, they may have voluntarily re-submitted or made modification to the review based on the March 2016 paper.
Finally, on August 10, 2016, Heron received approval for SUSTOL but for HEC AC based (AC based regimens are those which utilize combination chemotherapy cycles, a treatment which will likely see more use before the complete shift to IO years from now). AC stands for Adriamycin (also known as doxorubicin) and Cyclophosphamide. For more on combination therapy, investors can read our article on Celator Pharmaceuticals (NASDAQ:CPXX).
While a broader label would have been more desirable, the AC-label will be equally valuable should AC-regimens gain traction. Additionally, the AC label could open up any combination therapies that include either of these drugs.
After SUSTOL, what is next for Heron?
While Heron seemingly trades in the "no catalyst" zone– Catalysts are indeed lined up for Heron:
We believe that investors should expect
EU SUSTOL MAA (Marketing Approval Application) before the end of the year
Final readout of HTX-011 data towards the end of September.
Several pain conferences in the month of September applicable to HTX-011
Notably, Heron also made a few new prominent hires as of recently.
One such hire is Matt Cravets, VP of Biometrics. Matt's history suggests that he's been hired to help with data analysis and comparison for the final readouts of 011 and comparisons to current standard products.
We also believe that Heron may be preparing to expand its pipeline further.
This is hinted at by further hires, including Clyn Wilker, VP of preclinical.
A pipeline expansion makes sense, given the derisked platform. Of importance, will be what product Heron selects, for its biochronomer platform.
Finally, we would like investors and readers to fully appreciate the team Heron has:
The CEO Barry has been an exceptional leader at all of his ventures, and was introduced to Kevin Tang when Tang was covering one of Barry's companies at Deutsche Banc Alec Brown. The two have been largely successful in their past work together.
Mrs. Manhard has been a pivotal part of getting countless blockbuster products onto the market in record times at Agouron (with Barry), Bristol Myers Squibb, and Eli Lilly.
Summary
All in all we believe that management is preparing the Heron Therapeutics pipeline, along with the Bioerodimer and Biochronomer platform to enable an eventual sale of the company to a large-cap pharmaceutical company. That company could later utilize the Heron platform to improve patient quality of life, through their current therapeutics, which may lack a true sustained release profile. We are excited for the coming months and have high hopes for Heron Therapeutics.
We believe that the stock will likely trade range bound at the 18~21 levels into late September. After which, we expect a breakout above 25, even 30.
We would like to thank Max Ebensteen for his assistance with partaking in this due diligence. Mr. Ebensteen is long Heron Therapeutics common stock.
Errata: In addition as at 11/8/2016 Heron expects to have data out for 011 toward the middle of the fourth quarter, early 2017.
Disclosure: I am/we are long HRTX.
I wrote this article myself, and it expresses my own opinions. I am not receiving compensation for it (other than from Seeking Alpha). I have no business relationship with any company whose stock is mentioned in this article.