Chiasma's CRL: Investor Takeaways
Summary
Chiasma received a CRL from the FDA Friday, noting efficacy & supplier manufacturing concerns.
Chiasmas trial was single arm, without a placebo.
The FDA requests a new double-blind, placebo bearing arm study.
The company has given a formal response to investors in a webcast call this morning.
We discuss the possible routes forward.
On Friday April 15th, the FDA issued a CRL for Chiasma (NASDAQ:CHMA). The stock price is currently halted at 10.07 awaiting for the halt to be removed.
Efficacy
Although we are not in full agreement with all the opinions stated here, this article examines some of the efficacy described in the trial. We'll summarize it here.
Firstly, there was a tweet followed by a TheStreet article written by Adam Feuerstein that depicted why the FDA would likely reject CHMA's drug, citing a "secret investor". The bear thesis was based on the following points:
Efficacy was determined by CHMA to be "Control" of the disease as defined by <2.5ng/mL GH and <1.3x upper limit of normal (ULN) IGF-1. The secret investor indicated that the <1.3x ULN was simply fabricated by the company, and should be <1.0x.
Large percentage of patient drop-outs.
No fixed dose
No control arm
Roche decided to opt-out of CHMA's Acromegaly study "after reviewing the data"
And now to address these issues
1) The ≥1.3 ULN
The attack on the <1.3x ULN is unwarranted, as drugs already approved for Acromegaly disease use this same numerical multiple measure. This paper, which has connections to Pfizer (NYSE:PFE), Novartis (NYSE:NVS) and Ipsen (OTCPK:IPSEY) indicate the inclusionary criteria of having the disease is
Diagnosis of acromegaly confirmed by IGF-1 levels ≥1.3 times the ULN, GH levels ≥0.4 lg/L after an oral glucose load (75 g)
In addition, the Phase III trial of Pasireotide from Novartis indicated that control of the disease is defined by levels <1.3x the ULN.
We can conclude that the statement that "no one else uses the 1.3x limit" is false, and this is not the reason for the CRL.
2) Large Percentage of Patient Drop-outs
Only about 52% of the patients finished the trial in its entirety, (indicating of course a 48% drop out rate). The largest majority of patient drop outs were due to inefficacy. Approximately 16% dropped out for this reason. An additional 11% cited adverse GI tract problems for withdrawal.
While we believe that this drug definitely showed inefficacy in some of the population, we believe it likely has to do with the original treatment of each patient going into the study. All patients were previously on the injectable SRLs octreotide or lanreotide. Of those, about 37.4% were on injectable lanreotide. It is complete speculation, but it may turn out to be that only octreotide-responding patients are an effective target for oral ocreotide, and lanreotide-responders do not respond well to oral octreotide.
We believe that there is a viable and reachable subset population that can be defined with the results of this study that would indicate more proper inclusion criteria for drug effectiveness. This may or may not require a second trial.
3) No fixed dose
This is partially true, the study began with a fixed dose of 20mg and increased it to either 60 or 80mg throughout the dose-escalation period in order to identify the maximum effective dose, while considering safety. After control of the disease, the maximum reached dose was then fixed for the remainder of the study.
We see no issue with this.
4) No Control Arm
These is the largest issue with the study, and becomes difficult to defend. We strongly encourage all scientific studies to always include a control arm. With that said we're going to go into why it may have not been necessary:
A control arm here is not simple, since it is comparing an oral and injection drug. The oral-drug arm would require then, a placebo injection, while the oral-placebo arm would require an injection drug (ocreotide or lanreotide).
It won't be possible to do only an oral placebo, due to the severity of the disease, thus the injections would be required in both arms.
If the company can determine a subset population in which the oral formulation responds best with, the results may actually not only show disease control, but improvement, in comparison to injections.
There is no simple way to get around the no control arm, now that the FDA has requested it. However, we can go over historical and current trial data to indicate that the drug does in fact work for GH suppression: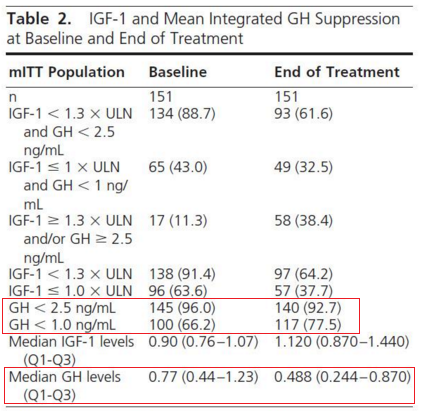 We can see that median GH levels actually dropped. However, IGF-1 levels were not as well controlled (we can't explain this currently).
It is also important to realize that these results are modified intent to treat (MITT) which means they include the results, even from people who dropped out of the study and likely weren't responding at all. This may or may not explain the general decrease in control seen in IGF-1.
With all that said, if the drug didn't work at all, these numbers should look much worse, as the disease would likely revert to untreated levels, and hit constant levels of >2.5 ng/mL GH and >1.3 ULN IGF-1. Also, if the drug didn't work, we doubt that the 86% of patients who finished the dose-escalation, would have opted-in to the fixed dose regime.
Still, we understand the desire for a control, we just wish there was some way around it here.
5) Roche decided to opt-out of the trial after seeing the data.
This is just not true. Roche (OTCQX:RHHBY) had internal structural changes, and cited that it no longer wanted to pursue endocrinology as a whole company-wide basis. In fact, some resources cited Roche & Chiasma celebrating the results of the study, and Roche concluded they were hopeful for the results.
Summary Of These points:
We believe that the FDA knows that the drug works. However there are two issues here
There is obviously a population of non-responders, as well as a population of good-responders. We believe the FDA wants to have bioindicators that can tell pre-dosing, who these likely-responders will be.
Without a control arm, we can't tell if the drug loses efficacy overtime, and generally, if there is a strong placebo-effect of the pill (even in the face of previous injections, which generally carry a stronger placebo effect).
Thus we find it 5% likely the company can go on without an additional trial, unless there is a substantially greater amount of data that can be reported from their Phase 3 results that have not yet been disclosed (i.e. relation of responders to bioindicators).
Conference Call:
Unfortunately the conference call was unable to give more details than the PR released, nor was I allowed to ask questions.
Here is a summary of what we know now:
Safety is not the issue, the FDA did not make any indication that safety was an issue.
Efficacy is questioned, and the FDA wants a control arm, the company will go into an end-of-review meeting to understand if this is actually necessary AND if it is, how to construct it
The company is likely aware of the manufacturing deficiency, but needs more details from the supplier before disclosing it
The empowered phase III study in Europe is actively enrolling, and requires a 20% "non-inferiority" end point
What would be most important to this company going forward, if they require a second study, and the company agrees to initiate it, is bioindicators for responders. That will be the most important aspect of bringing this forward and showing efficacy.
With that, we recommend a hold rating to CHMA. There is an equal weight of bearish and bullish pull at the current price right now, and we will wait until further information to change our sentiment. We hope the company makes the correct decisions going forward, and we hope they are quick and efficient to do so.
Disclosure: I/we have no positions in any stocks mentioned, and no plans to initiate any positions within the next 72 hours.
I wrote this article myself, and it expresses my own opinions. I am not receiving compensation for it (other than from Seeking Alpha). I have no business relationship with any company whose stock is mentioned in this article.